If you are here, that means I can assume you are a pregnancy first timer, just like I was not too long ago, on the hunt for all of the essentials everyone tells you that you need. Pregnancy can be overwhelming, for a lot of reasons. There is so much varying information out in the world about what you need or don't need for your pregnancy. I was definitely #influenced constantly by sites and articles telling me all the pregnancy essential items I NEEDED to have and honestly, as great as it was to have that information it could wind up being more stressful than helpful.
At the end of the day, your baby just needs you to be happy and healthy, BUT there are a few pregnancy essentials that can make your life easier during your journey. I can't say these will work for everyone, but these 10 essential items have tremendously helped me feel more comfortable and prepared for this wild ride.
---
1. Pregnancy Pillow
If you are a belly sleeper like me, sleeping during your 9 months of pregnancy can be rough. Before I bought my pregnancy pillow I felt so uncomfortable in any position I was actually allowed to sleep in. I didn't start using a pregnancy pillow until my second trimester, once I really started noticing my bump coming in. I honestly wasn't even sure if it would make much of a difference in my sleep. But let me tell ya it proved me wrong.
I am honestly so obsessed with it that I may just keep using it even after pregnancy. It does take up some extra room in the bed so fair warning, your significant other may not love that. BUT the sleep I've gotten, even in the third trimester, has been worth it and become a pregnancy essential for me. The one I got is super affordable, comfortable and comes in lots of color options.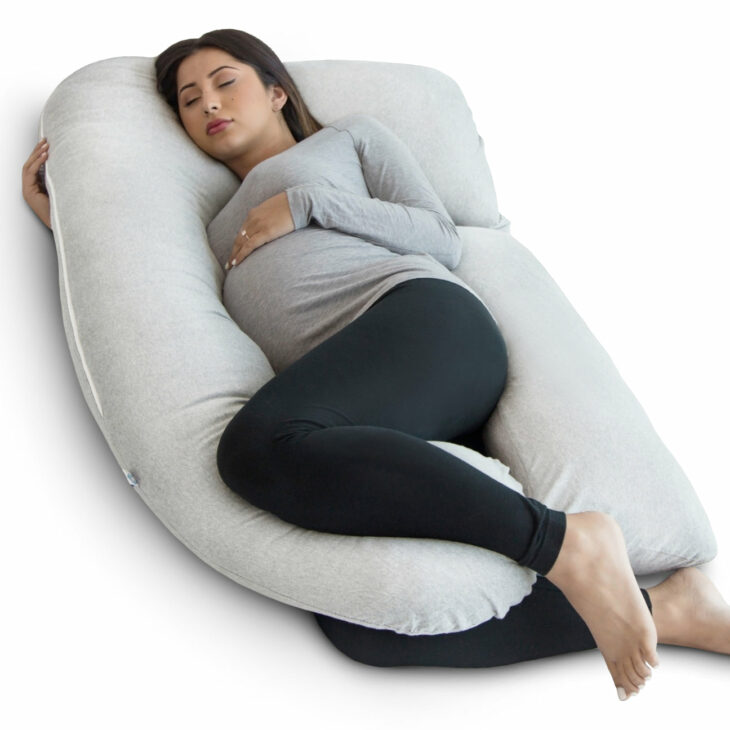 2. Maternity Tanks From Walmart
Okay, so my mom is a Walmart shopaholic. Towards the end of my first trimester was when I started showing just a bit of a bump. My mother was on the prowl for some cheap but cute maternity clothes. She got me a few basic maternity tanks and I've lived in them throughout my whole pregnancy. I have one in white, black and gray which is great because they pretty much go with any outfit. They are great for the summer but I also wore them a ton in the winter with over sized sweaters, cardigans and coats I already had. They are super soft and have easily grown with me and my bump. Highly recommend! If you are looking for more maternity style tips, check out this post to see what I wore for my maternity shoot.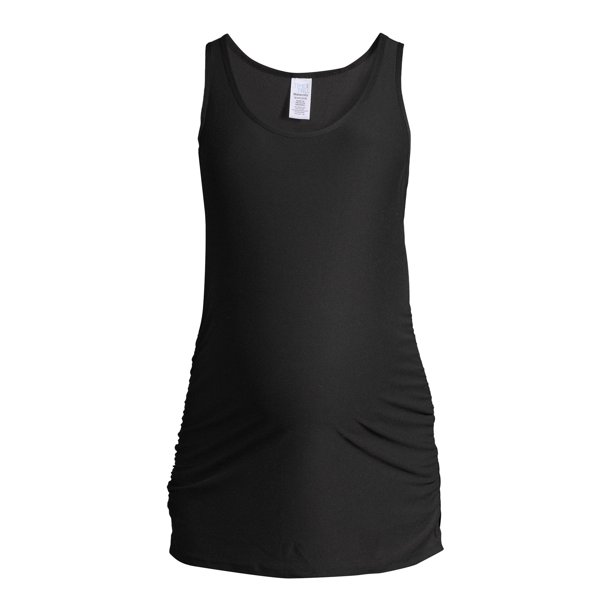 3. Belly Oil
This was a bit of a splurge on myself but totally worth it. I bought this Hatch Belly Oil in the second month of pregnancy and have been using it fairly religiously. It lasted through my whole pregnancy with some still left to spare. There are SO many options for belly oils/lotions. Feel free to test out a few to see which one you like best. I think the Hatch Belly Oil is super hydrating but also doesn't leave your bump feeling oily, which I know some oils can do.
I also have Bio Oil and have been using that for the past month as well as my Hatch Belly Oil. Both smell amazing, and feel like a treat every time I use them. While I did wind up with some stretch marks after birth, having something that feels like a special way to love on yourself, in my opinion, is a pregnancy essential in itself. Plus stretch marks are nothing to be ashamed of, so if nothing else just use this oil to give that belly some extra love!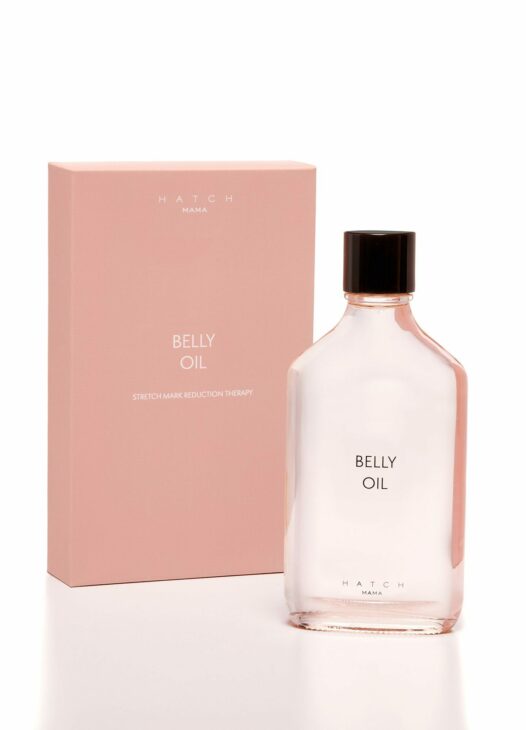 4. Hydrojug
I will admit, water was a struggle for me. My doctor recommended I drink about a gallon of water per day and I about fell out of my chair. I know, I know, water is so good for you and I commend the people who drink TONS of it a day. That just ain't me. I definitely think not drinking enough water affected me earlier in my pregnancy and I probably would have felt better had I gotten on top of my daily intake of water sooner. BUT I got there eventually so that counts for something, right?
I had been trying lots of different water bottles and glasses we had lying around the house, but nothing really helped me like I hoped they would. A good friend of mine had a HydroJug and lent it to me to try and see if it made a difference. Guys, it is SO helpful! You only have to fill it up twice a day, once in the morning and then halfway through the day, which makes it so much easier than bottles you have to fill a million times. And it's so easy to track how much water I've actually had for the day.
Taking care of yourself is the most essential of the pregnancy essentials and water is a huge part of that. It also helps that it's super cute! I have the HydroJug in Cactus color and my sleeve is Midnight Leopard, which unfortunately they no longer sell. I linked one below that is similar to the one I have and definitely my next pick if I order a second!
5. Prenatal Vitamins
I went through lots of websites and lists of prenatal vitamins, which as you know is a big pregnancy essential that you can start even before you find out about your pregnancy. Honestly I don't think you can really go wrong with most of them but I decided to go with Modern Fertility for a few reasons: I love their company and their brand, they have a subscription model which makes it easy for someone like me who always forgets to get refills until the very last minute, and they come in a beautiful glass jar for the first shipment with the rest of the shipments being in a bag to refill the jar.
It's full of everything you need, although I did bring it into my OB to ask if I needed to supplement any other vitamins with my prenatal as well. Highly suggest doing so just to make sure you are getting everything you need to be as healthy as possible for your sweet babe. I will also say, if you plan your weekly medications out in a medicine holder like I do, I would not suggest putting these in there for too long. They do get discolored/collect moisture inside the tube when they are exposed to air for a few days, so I always just keep them in the jar they came in!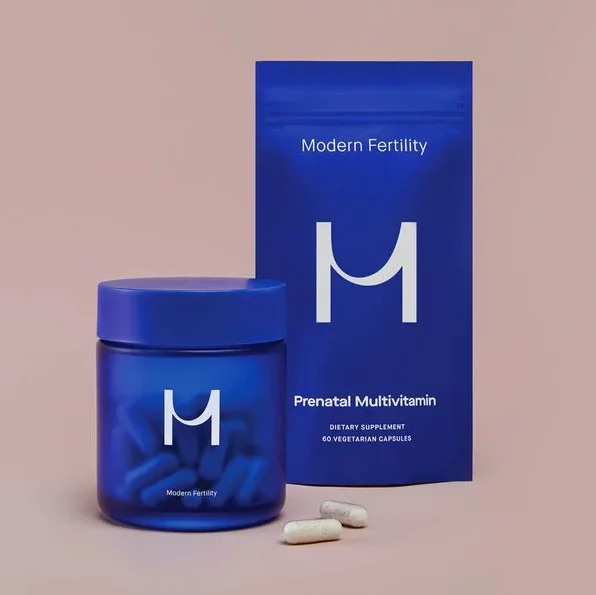 6. Allbirds
I know this isn't your typical pregnancy essential, but comfy shoes are a necessity when you're growing a human. And my gosh these Allbirds are some comfy freaking shoes. I always wear these when my husband and I go on walks around the neighborhood. I have had them for about a year now and they have held up so well. They are also machine washable and come in so many cute colors! They go with any casual outfit and are so great for mild activity. Allbirds does have shoes that are more geared towards running in particular but these are meant to be more for everyday. For me, it works great because especially during pregnancy my main activity is walking and like a friend of mine always said, "If you see me running, it's because I'm running FROM something! Call for help!"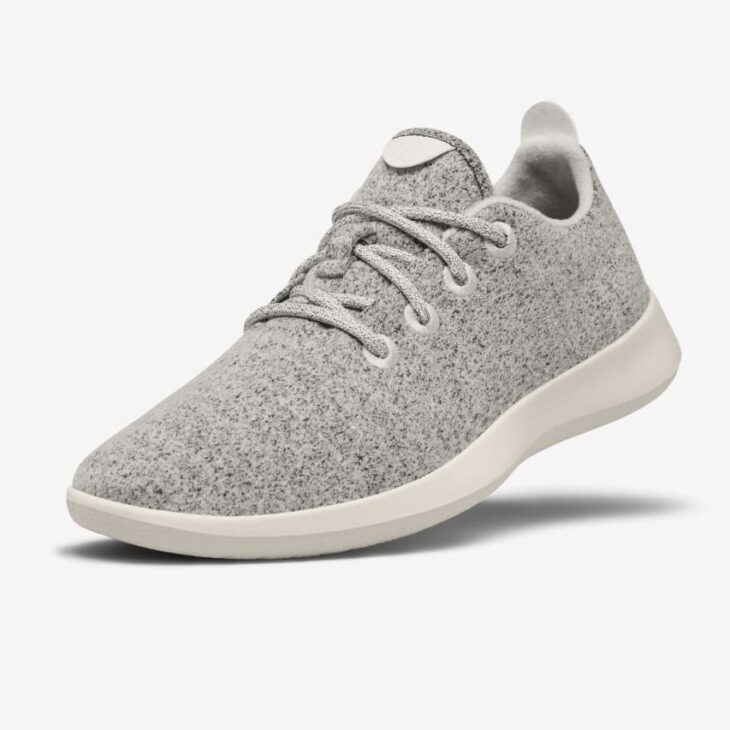 7. Exercise Ball
My husband is a sweet angel and got me the cutest exercise ball for Christmas. My whole pregnancy, I had issues with my breathing. I found myself sitting on the edge of the couch most nights sitting up as straight as possible to try and get in a good full breath. I mean, it makes sense. As room in your body gets taken up by a sweet little babe, it can make it feel like breathing is a strain and there isn't enough space in there for a good, deep breath. As soon as I sat on my new exercise ball I immediately felt the difference. It is also great for opening up your hips and pelvis as you get closer to your due date.
Bonus points for this one and my hubby because it matches my *aesthetic* perfectly. But really any ball is a pregnancy essential, will get the job done and get you feeling like a breathing, functional human again.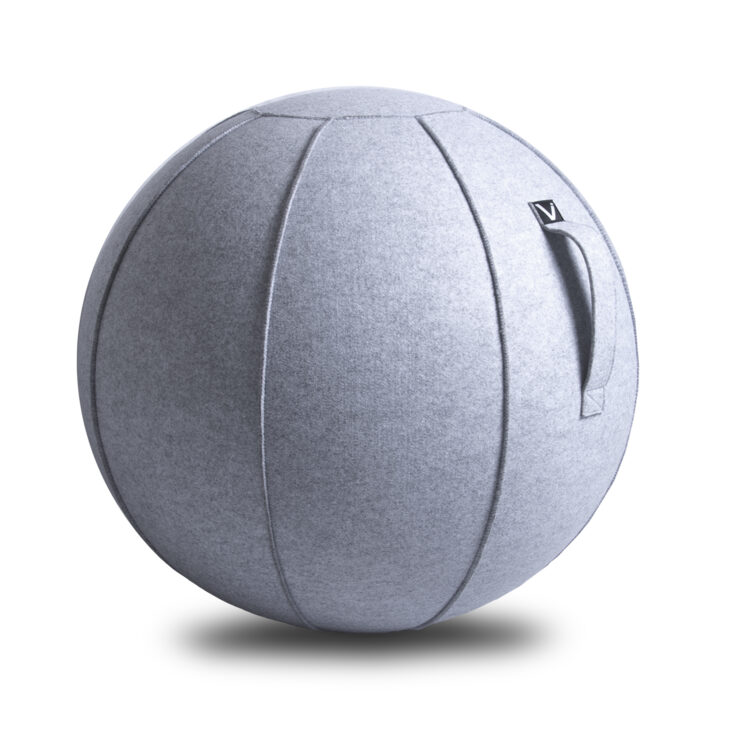 8. What To Expect App
I've tried a few different apps and I have to say the What To Expect App is my favorite. It is definitely all up to your individual preference, so if this one doesn't do it for you I promise there are plenty of free apps out there that will. But this app in particular is so informative, tells me what size fruit baby girl is every week, has a video describing what developmental growth is happening each week, I mean I could go on and on.
It tells me what symptoms to expect each week as well which I must say have been very accurate considering it feels like I have had every symptom it has told me I would. The app also pulls up relevant articles for you each week based on what you're going through and what to expect in the upcoming weeks. It really just does it all. I've also used Pregnancy+ to get a realistic idea of how big our baby is and what she looks like each week. It's been really fun to track, but that's about all I use that app for.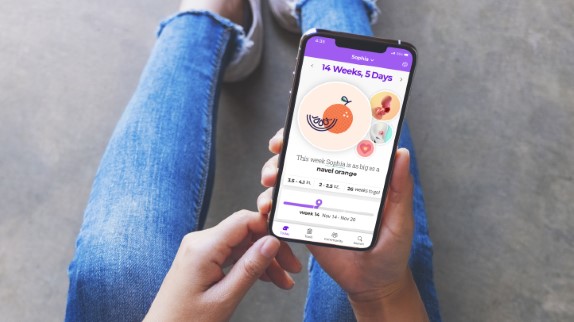 9. Weighted Sleep Mask
I've honestly never used a sleep mask before I got pregnant and I've gotta say, I didn't know what I was missing out on. I wound up getting this sleep mask because my first trimester really knocked me out. I was exhausted all the time and taking naps throughout the day just to get by. The blinds in our bedroom are great, but they aren't blackout so it wasn't always the most ideal situation for sleep. Here's where the Holy Grail enters the picture. Cue angels singing and a spotlight on this magnificent creation.
Before I dive any deeper into why it is SO great, I want to add that I have always struggled with migraines. I had them before pregnancy and would get them periodically during pregnancy, specifically in the first trimester. A weighted sleep mask works wonders for this. Sometimes when you get a migraine, the only thing that will help is sleep, and that extra weight on your eyes is a life changer. Plus being able to take naps in the middle of the day literally anywhere is a first trimester dream and a pregnancy essential in my book.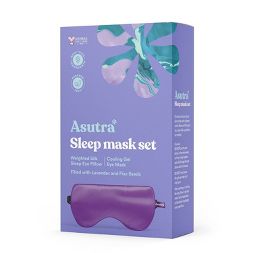 10. Pregnancy Journal
My final pregnancy essential item may not be essential to some, but for me to be able to record how I've felt throughout my pregnancy and know that our little girl will be able to read it someday has been a highlight of the pregnancy for sure. Growing You is gorgeous and is great for keeping track of your favorite memories from big events like the gender reveal and baby shower, as well as keeping record of the little details from each month of your nine month journey. It asks what you've been craving, how you feel and what you're excited for each month.
You can also keep track of all your appointments, ultrasounds and the progression of your little one's heartbeat. There's a spot for a sonogram picture as well and lots of space for notes in the back in case mom or dad are feeling compelled to write little notes throughout the pregnancy. Overall so precious and would definitely get again for baby #2!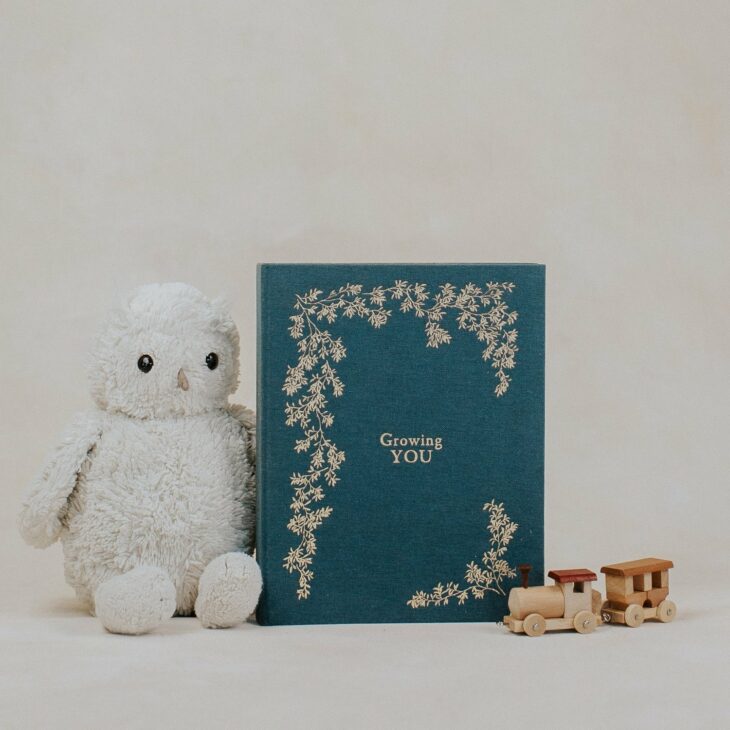 ---
Like I said these are just my preferences, there are so many other things out there that can be right for you. Just don't be afraid to love on yourself during this exciting season, whatever that looks like for you. For me, it looks like me lounging on my pregnancy pillow, a cup of tea in hand, some trashy reality television and my pup curled up beside me. If that's what it looks like for you too, hey, let's be friends.
Honorable Mentions
Compression Socks
Yes, your feet and ankles will swell to the size of jumbo bricks, and that's totally normal. Compression socks are a huge helper when that time comes in bringing down the swelling and making walking feel a bit more normal. Remember to put your feet up and relax a bit too! You deserve it, mama.
Slip on Shoes
I promise you, you will get to a point where your feet are so swollen that none of your shoes will fit you anymore. Try and get some slip on shoes just so you have something you know will fit and are easy to get on and off. You will thank me for this tip, especially when your belly is so big that your husband is having to wrestle with your feet to get your shoes on because you can't do it on your own anymore. Your husband will thank me too.
Water Pik
A common symptom of pregnancy is bleeding gums, no matter how healthy of a routine you have regarding your dental hygiene. Using my water pik every day kept my gums feeling healthy and fresh, even if there was still a little bleeding. This isn't very glamorous but hey, neither is pregnancy!
XOXO
Essentials
Lists
Maternity
Motherhood
Pregnancy