You know when you get an itch to do something and you can't stop thinking about it? The kind of itch you obsess over until it's done? That was me 38 weeks pregnant wanting to completely reorganize our pantry. Because what says nesting more than organizing something that the baby won't use even a little bit whatsoever? Okay okay, I'm joking! Taking on our pantry organization saved us SO much space and honestly made us happier in the long run. When you see the before and after pictures, you'll understand why.
Our pantry has always been a throw-it-in-there space. And by that I mean, when I didn't know what to do with something, I would throw it in there! Files? In the pantry. Potatoes? The pantry. My husband's baseball mitt? Yep, the pantry. There was no rhyme or reason to anything happening in there, and it was driving me crazy. I was getting tired of not being able to find what I needed, because nothing had a place. It had gotten so out of hand that I continued to put it off, which just caused even more chaos. And by chaos, I mean CHAOS.
You guys, I am really making myself vulnerable here because I know this is a MESS. Not my proudest moment. My hubby and I let this go on for far too long. SO with our little baby on the way, and coming very soon, we opened the pantry door to the "before" picture you see above. We asked ourselves, "how in the world do we make this beautiful and functional?". I promise there is a way. Despite how hard it may be to imagine, there is an "after" picture at the end of all this. It just took a lot of work, heavy lifting on my husband's part and The Container Store. Lots of The Container Store. And thus began our pantry organization journey. Below is everything we bought at The Container Store and how we used them!
Yamazaki Tosca Baskets With Wooden Handles
When tackling our pantry organization, the first thing we looked for were baskets to store a majority of our food in. We found a lot of great options at The Container Store, all of which probably would have worked well but these were by far our favorite. We wanted to be able to see everything in the baskets so we could get better at not wasting the food that we buy. They were the perfect size for storing most of our larger food items. We used four of them and organized them by type of food so that everything had a place and we knew where to look when we needed something.
We wound up categorizing them as:
Snacks (things like chips, popcorn, any kind of snack that isn't a bar of some sort), Sweets and baking supplies (things like marshmallows, leftover chocolate chips that didn't fit in our OXO containers that I will talk about later, walnuts, powdered sugar), Ready to make boxes (these are things like waffle and pancake mix, our favorite noodle soup, cooked rice that you can just stick in the microwave), and a Miscellaneous basket (you know we had to have one).
They fit everything we need and make it so easy to find what we are looking for. And I think they are gorgeous!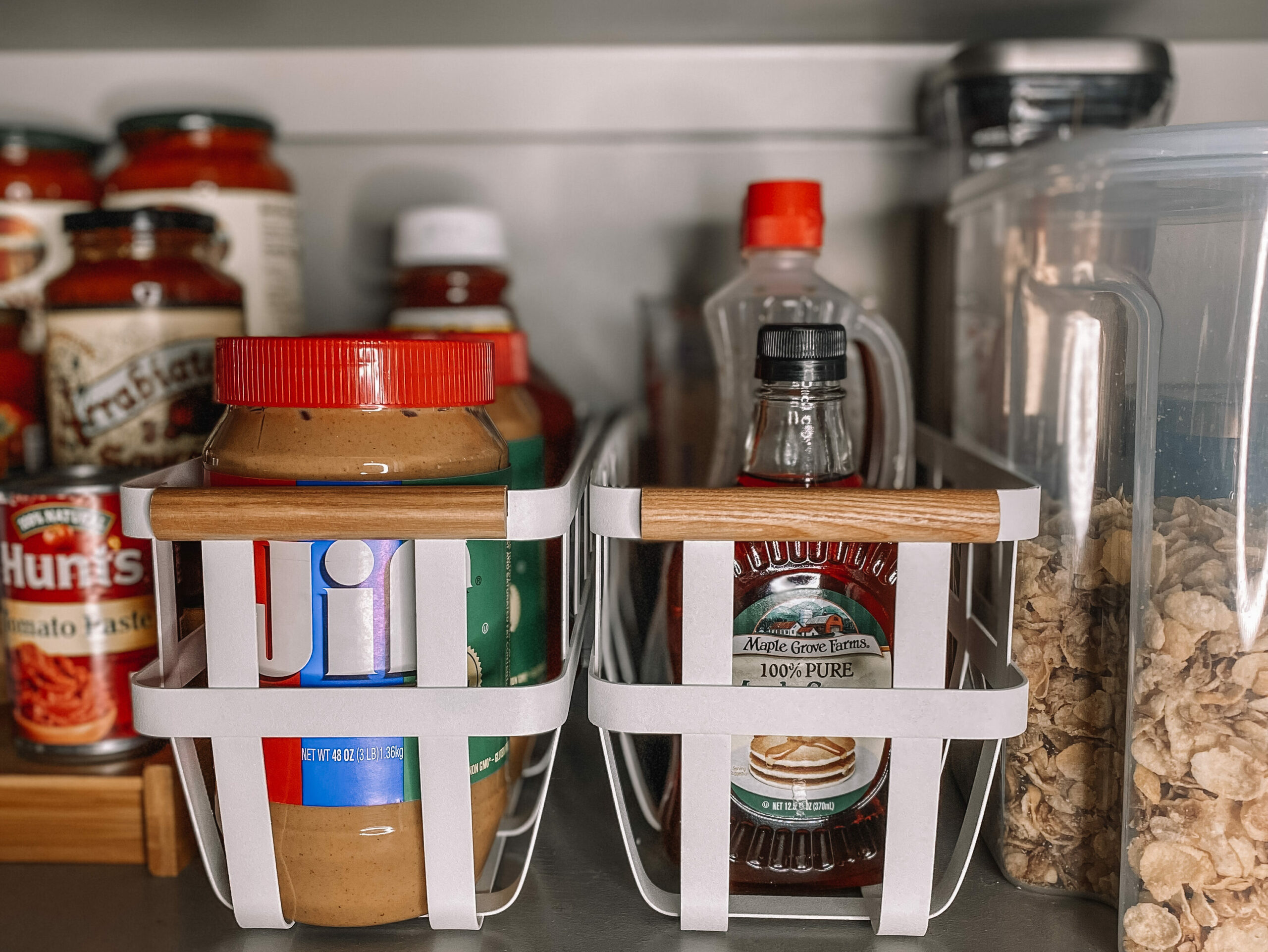 We also decided to get two of the smaller versions of the baskets. I am so glad that we did! They are the perfect size to fit our peanut butter, extra ketchup bottles, syrup bottles and more. Having them makes everything look cohesive which I love. They make it look so much better than just having these bottles and jars sitting on the shelf. I love having a place for every single thing. It makes staying organized so much easier and helps me know when I need to buy more at the grocery store if we are running low on something.
IDesign Linus Clear Storage Bins
We got two of these plastic bins to hold our snack bars and they work perfectly! They are so easy to pull out and restock. And they fit almost any snack bar we've bought either side by side or in one row. I love that they are clear so you can see what you have in there and how much you have left. We may at some point get more because we love our snacks so we always wind up buying a lot. But I still think two works great, and these look really nice next to the baskets!
Tellfresh Store & Pour Dry Food Dispensers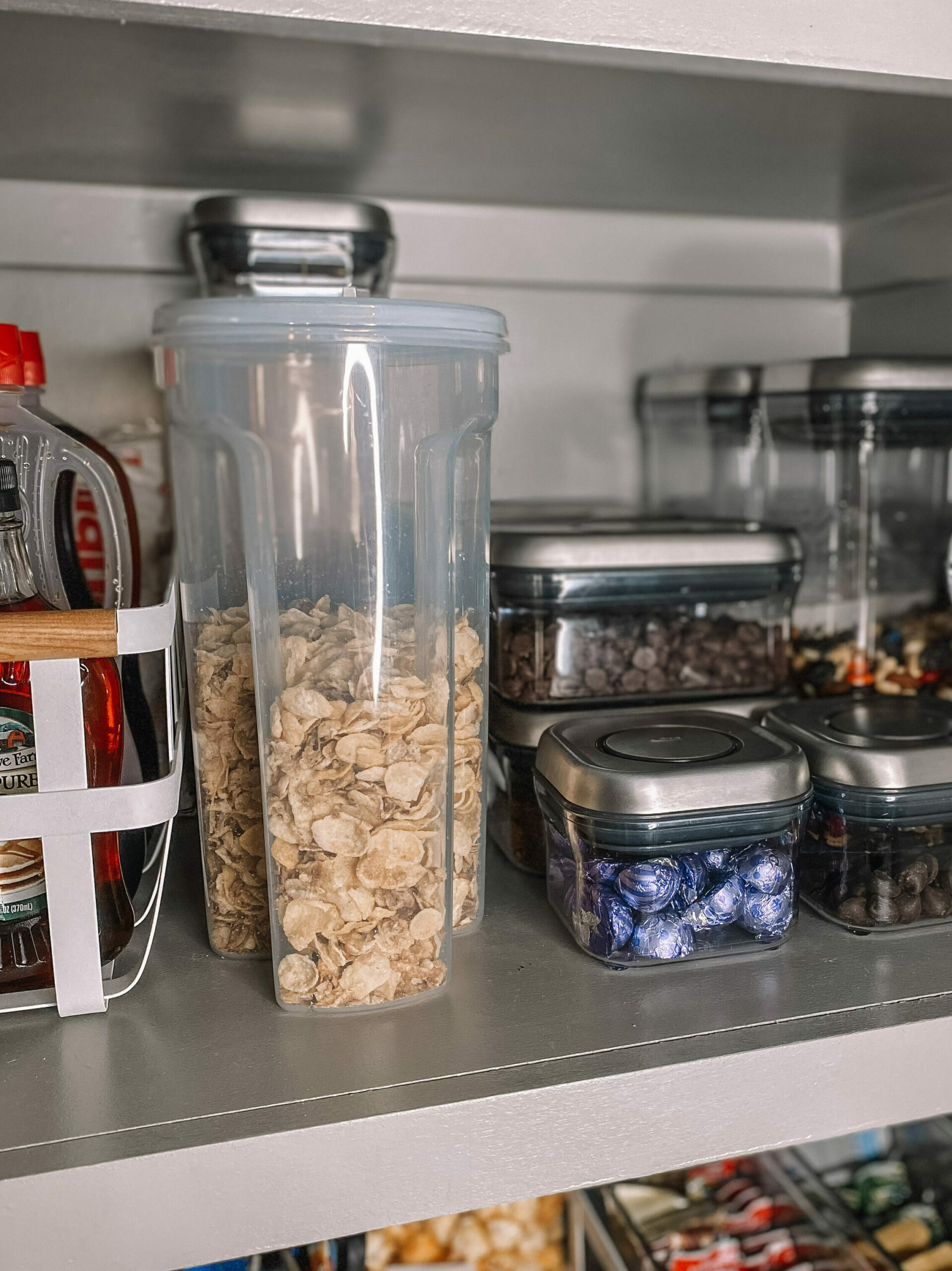 When I was pregnant one of my biggest cravings was Honey Bunches of Oats (not the craving I was expecting but also not mad about it). So this Cereal Dispenser was kind of a must have for us. We were going through so much cereal that it just made sense. It can fit two giant boxes of cereal which I love and it makes it so easy to see when you are running low and need to buy more.
Large 3-Tier Bamboo Expanding Shelf
This was one of my favorite finds for the pantry. It's beautiful and matches the wood handles of the baskets really well which makes it all look very cohesive. The shelves expend to a really great size so I was able to fit a lot of cans on there which saved a ton of room. I could probably even add another row of cans in front of the shelves, I just didn't have enough cans for that. I love this because it makes it so easy to see everything you have, whereas before it was just piled up in the corner and the ones in the back were forgotten to the point where when I was cleaning out the pantry I kept saying, "Oh, I didn't know we had these!". This is definitely a necessity for any pantry organization.
OXO Good Grips® POP 10-Piece Food Storage Container Set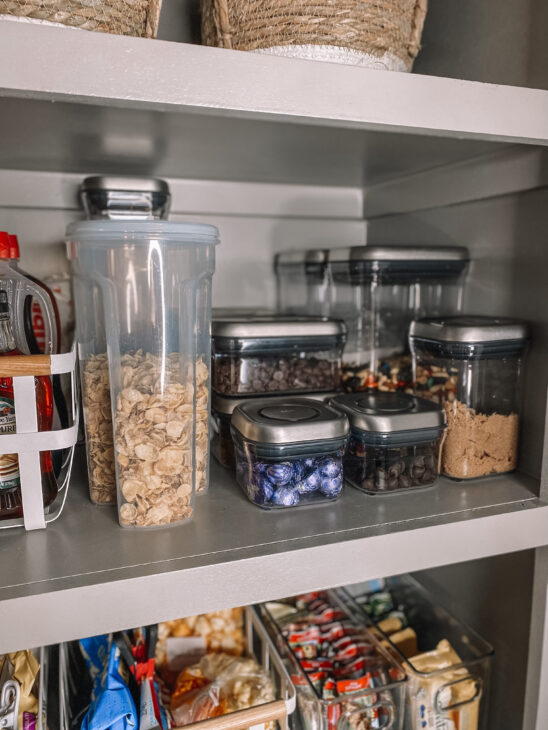 This was an item on our wedding registry and I am still so happy that we were gifted it (check out this post for our must have wedding registry items). It has become one of our most used storage items and I would go as far to say the most beautiful as well. We use them for sugar, flour, trail mix, chocolates, pasta, you name it. My one recommendation would be to use stickers on the bottom to write the expiration dates on the bottom so you can keep track of when things go bad. They also make it really easy to measure for baking and they're stackable so they really save you space which is exactly what we needed. These are a perfect starting point for pantry organization.
Bigso White Stockholm Desktop File
We live in a condo, which means that every spaced is utilized as much as possible since storage is limited. Our pantry kind of has to be multi-use, but we wanted it to be subtle and still easily accessible. When we found this pretty white desktop file, I thought it was perfect for some folders we had, as well as some office type supplies like tape and extra pens that didn't have a place beforehand. I also found these matching storage boxes that are perfect for storing our stationary, printer paper and other miscellaneous office supplies we need easy access to. I think they look great and are the perfect way to store and hide all our everyday supplies, especially for a family that doesn't currently have a home office!
Really Useful Boxes Small Stackable Vinyl Record Storage Box
This one may not be applicable to everyone but like I said, with living in a condo our storage options are limited. My husband has a growing vinyl collection. While we have plans to create a little cozy area somewhere in our home with a record player displaying these vinyl records at some point, that time is not now. So here we are looking for a place to store all these records until that time came. I found this Vinyl Record Storage Box and thought it would be perfect for the time being until we finally set up the records with a record player like we want to in the future. It can also be used for most anything, but with the box being clear I like using it for a singular thing rather than a junk drawer box so it looks less cluttered. It still has room to add more records in the future so I think it's a great fit for now!
U Brands 19 Pocket Expanding File Box Black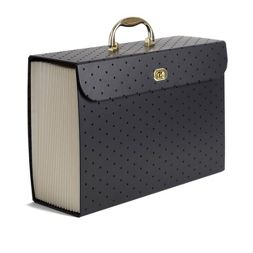 This was a Target find I bought a few months prior to starting our work on the pantry. Like I said, we don't have a home office. That can sometimes make it hard to keep all of our files and important papers organized just because we don't have the space to store them the way we would like. That's why I love this file box. It is so cute with subtle little polka dots, but also really simple so it fit right in with the rest of the pantry. It expands so there is plenty of room in there for all of our important files. There are a ton of dividers you can label so I know exactly where everything is when I need something as opposed to scouring the whole house hoping and praying my passport is there somewhere (been there, done that). This would be great for a home office too, but for us it works perfect in our multi-functional pantry.
Iris Pet Food Containers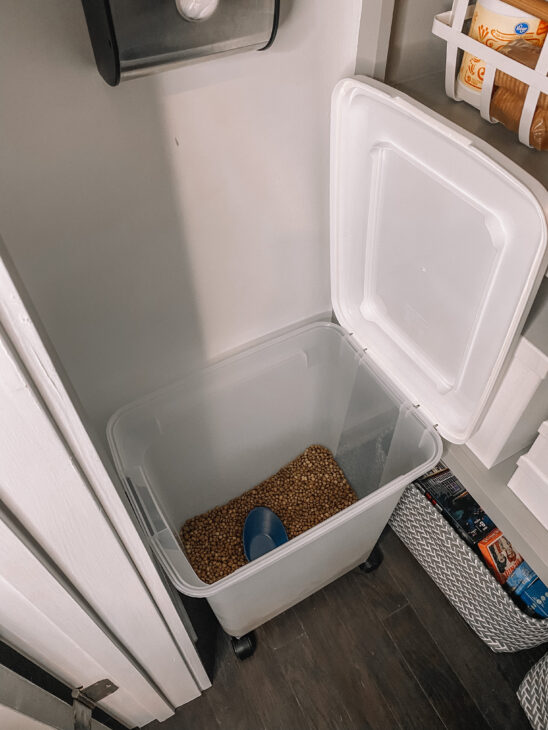 This was a bit of a splurge because it wasn't something that we necessarily needed. Definitely more of a nice to have. We have always stored Layla's dog food in the pantry in the bag it comes in. But for the price, this container is worth it for the sleek look and convenience. It rolls so it is easy to take out of the pantry to refill and then put back. It is the perfect size for the 30 pound bag of dog food we get and looks SO much better than the open bag of dog food sitting in there like we had it before. Little touches like this add so much to your pantry organization.
Large Woven Rectangular Storage Basket – Brightroom™
These were another Target find that I purchased a few years back. These baskets were being used in our bedroom closet, but my husband had the idea of using them for all our games (check out this post for some of our favorites!). They actually sell them in white and if I could do it again, I would probably buy those instead. Not that I don't like these because I do. I think they are cute and have been huge helpers in saving space. But I think the white version would maybe look a bit cleaner and match the aesthetic a bit better. However, these do fit perfectly on the floor of our pantry and look so much better than having piles of games on the shelves. It is so much easier to find a game when we want to. Overall looks SO much better than how it was before.
Mainstays Seagrass & Paper Rope Baskets, Set of 2, 12″ and 10.25″, Storage
These baskets were a gift from my mom from Walmart believe it or not. They actually come in a set of two, with one of this size and another smaller basket. I wanted two of the same size so I wound up getting two sets and using the two smaller ones in my little girls room to store her toys. We put our Dyson vacuum attachments in one and Layla's doggo supplies in the other and it worked out perfectly. We know exactly where those things are when we need them and can pull the basket down for easy access whenever we do. Having baskets like these are such a nice touch to make your pantry organization look beautiful, just as much as it is functional. The other baskets next to these on the shelf we used for cleaning supplies. They were purchased a long time ago, but click here and here for some other ideas for baskets you could use instead.
Okay, now for the big reveal! Put all these fabulous organizational pieces together and you get… Drum roll please…
I think we all need to see that again…
So there you have it folks. If you'r pantry looks closer to my before picture than it does to my after picture, I would highly suggest you make pantry organization your next home project! It has absolutely changed our lives for the better. My advice to you is to keep it simple, keep food visible and supplies hidden. Once everything has a place, it makes it so much easier to actually keep everything in its place. For us, it was more than just the pantry. It was the first step in organizing our home overall. And organizing our pantry was a necessary first step in organizing our lives. I mean, think about it. You look at your pantry multiple times every single day. Now look at my before and after pictures and ask yourself which one may inspire or motivate you throughout the rest of your day to stay organized and stress free. It may seem like just a pantry, but trust me it's much more than that.
XOXO
Condo Living
DIY
Home Project
Organization