With a wedding we are attending coming up in late June, I've been on the hunt for the perfect wedding guest dress! Try saying that three times fast… Anywho, on my hunt for the perfect dress for a Spring wedding, I've found lots of gorgeous options that I wanted to share with you all! There are so many beautiful dresses and I tried to find them in lots of different price points. I know there are LOTS of gorgeous dresses, but I tried to narrow down to a less overwhelming selection of my faves.
June in California (which is where the wedding will be) will be fairly warm! Typically with a low of 60 degrees and a high of 80 degrees! Spring can be tricky though because the weather can be so back and forth during these few months. At least that always seems to be the case in Nashville! When it dips into that 60 degree category, it may call for jackets or dresses with sleeves!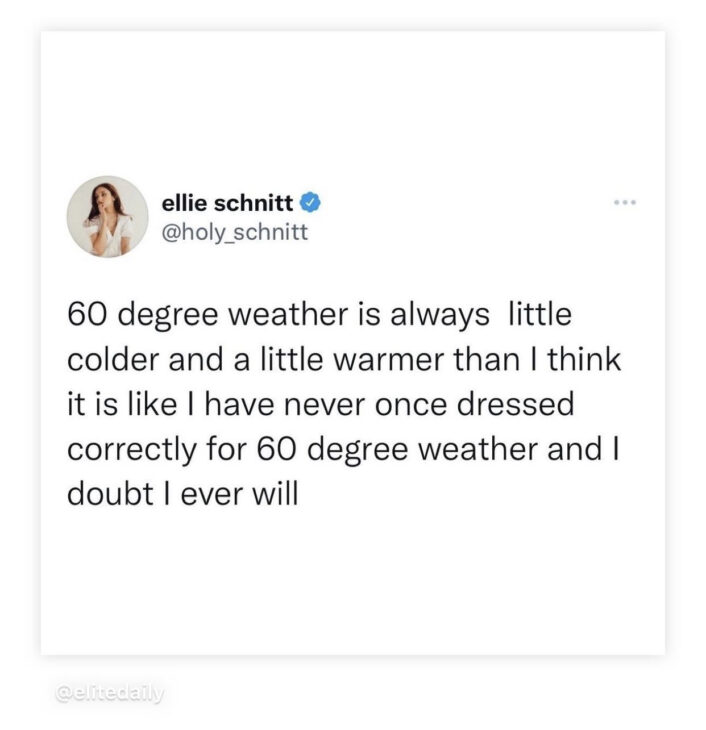 I saw this meme the other day and couldn't help but laugh because it is too true! Like, how do I know that my light jacket is light enough? If I wear a tank top underneath my jacket, will I get too warm and want to take my jacket off? Will I then be too cold with just a tank top? If I wear a dress will my legs get too cold? If I wear boots will my feet get too hot? These are the things that keep me up at night.
My point being, if you're looking for something to be worn in cooler spring weather, it would be so easy to throw a light jacket over any of these wedding guest dresses. You can always take it off throughout the night if needed, which is why I love layers! I've linked some cute jackets below as well for you! You'll have to use your own discretion to determine if the jacket is light enough. Check out the looks below!
Short Sleeve Dresses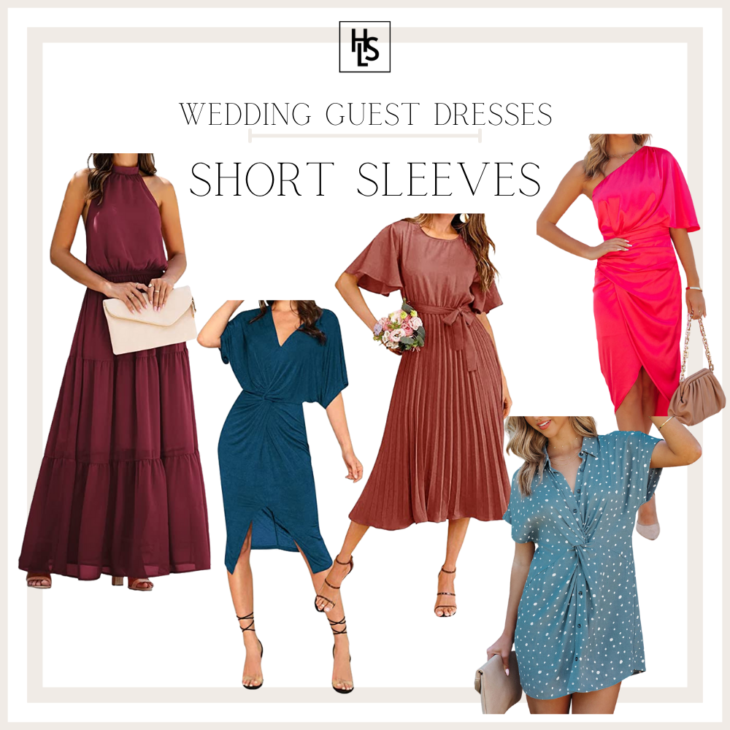 PRETTYGARDEN Women's Casual Halter Neck Dress: This dress is SO cute and looks comfy too, so you can still party all night long as I do at every wedding I go to. Love the halter neckline!
Floerns Women's Short Sleeve V Neck Dress: This one would be great for a more upscale wedding. I love the cinching at the waist and feel like it would be so flattering on most any body type. Only $35 which is a great deal!
Milumia Women's Belted Pleated Sleeve Dress: Love the color of this dress for a Spring wedding! Great for an outdoor wedding too. I love the sleeves because if you are outside and are pasty white like me, you can protect yourself from a gnarly sunburn. These are the things I think about…
Manika Spotted Button Down Shirt Dress: So cute and can easily be dressed up for a wedding or dressed down and re-worn for other occasions!
Truly in Love One Shoulder Satin Drape Dress: This wedding guest dress is so gorgeous! I love the one shoulder and the color will for sure make you stand out in the crowd if that's what you're going for. My wedding planner met her husband at a wedding, and I bet she was wearing this. Okay just kidding but you get where I'm going with this!
Long Sleeve Dresses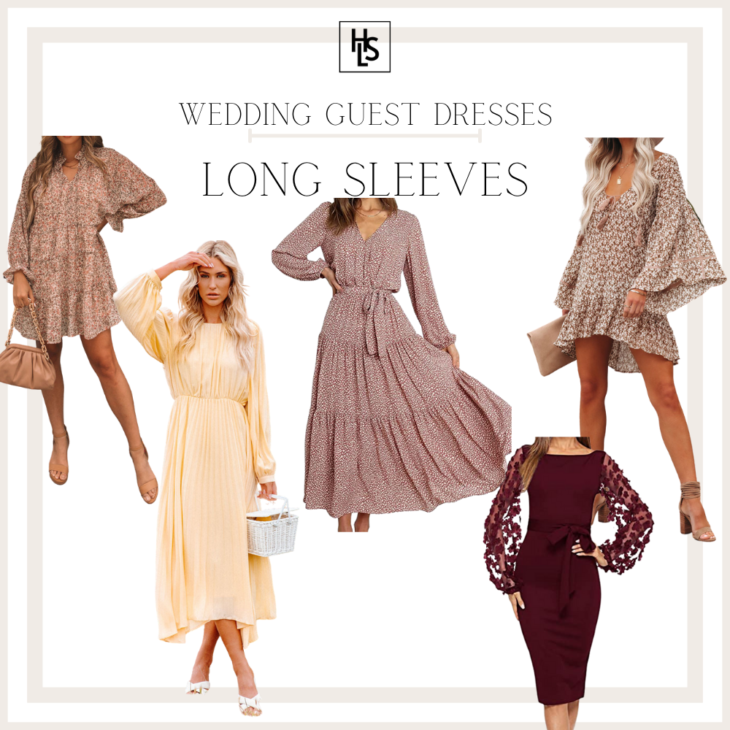 Aara Floral Tiered Babydoll Dress: I love the details on this wedding guest dress. The ruffle neckline is so pretty and overall feels so dainty which I love! Super light and airy which is nice if it gets warm but you want to be in long sleeves.
Hopeful Romantic Pleated Midi Dress: I saw this dress from Vici and immediately fell in love with it. So simple and yet so stunning. I feel like the color is unique and I love the pleating.
PRETTYGARDEN Women's Long Sleeve Maxi Dress: Love the color of this dress! Would be great for a baby shower as well. And it's under $40!
Women's Elegant Bishop Sleeve Dress: Okay this dress is a showstopper! I'm obsessed with these sleeves. This dress would be great for a Spring wedding that calls for cocktail attire.
Dahlia Floral Soft Crinkled Tassel Dress: I'm a big fan of the sleeves on this dress. It is so flowy and perfect for a cool Spring night outside!
Floral/Print Dresses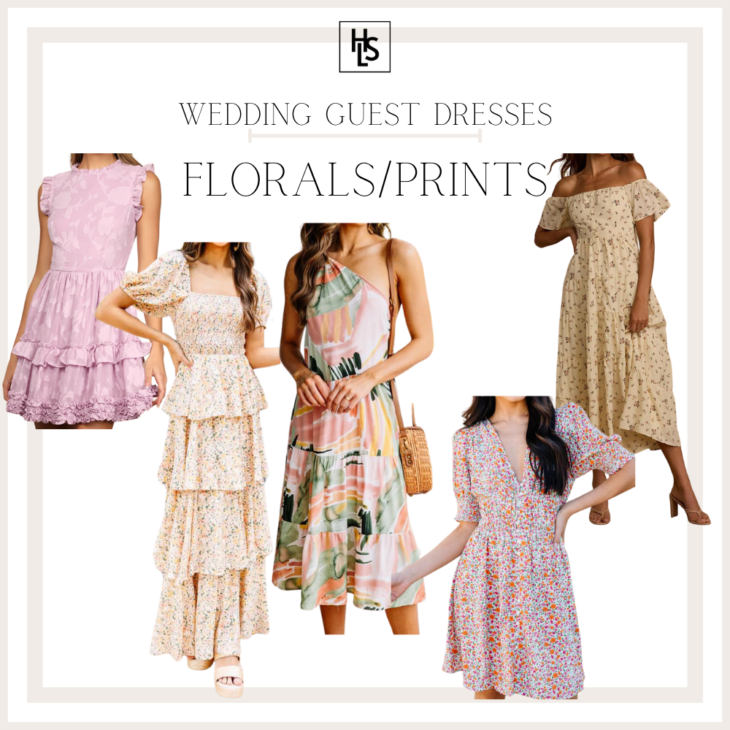 True as Can Be Lavender Burnout Floral Ruffled Mini Dress: I think this dress is so so cute! Love the subtle floral pattern on this dress and think it can be used for lots of other events too. So girly and cute!
Under Clear Skies Yellow Ditsy Floral Maxi Dress: Love the tiers of this dress and the puffy sleeves! It's definitely unique which I love and would look gorgeous for an outdoor/garden wedding.
Love Follows Sage Green Midi Dress: This dress may be my favorite in this post. I am in love with the colors and think that it is the perfect Spring event dress! Definitely adding this one to my cart.
Do What's Best Ivory White Ditsy Floral Dress: The colors on this dress are so vibrant which I love. It's so fun and perfect for someone ready to have a good time!
Sweet Daydreamer Yellow Floral Print Off-the-Shoulder Maxi Dress: Another beautiful dress that would be perfect for a Spring wedding. Love this dress for a date night as well so you could re-use for multiple occasions which I love!
Jackets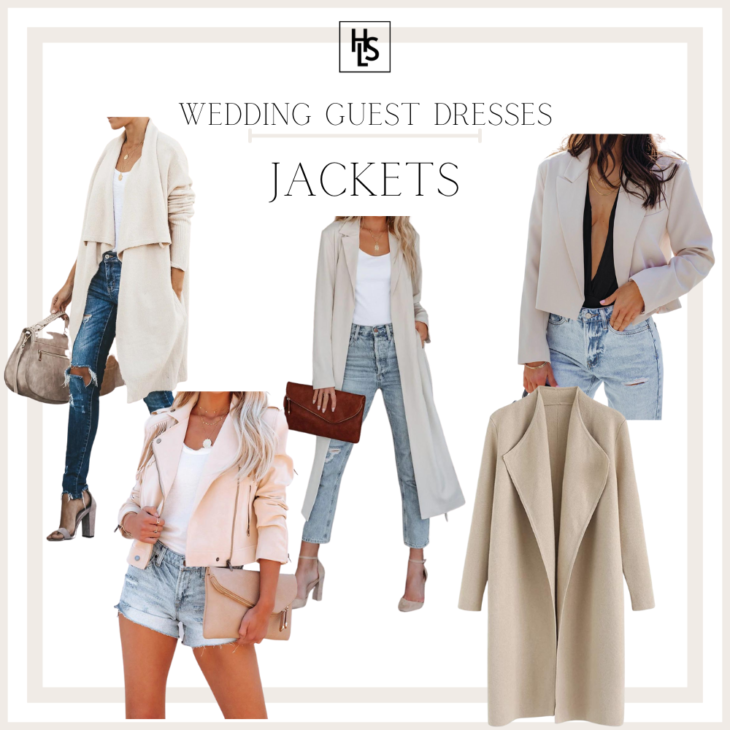 Fireside Pocketed Knit Cardigan: This cardigan is so cute and simple to throw over any of the dresses above. The color is super neutral so it won't clash with anything and it stays open so you can still show off your gorgeous dress while you are wearing it.
Shuma Pocketed Faux Leather Fringe Moto Jacket: Okay this jacket I am fully obsessed with! Can be dressed down for sure but would look so cute with some of the wedding guest dresses above, especially any that have pink accents! The fringe is such a fun addition too.
Saskia Pocketed Lightweight Trench Coat: This coat seems super light and I love how long it is. It makes it feel so elegant but in an effortless way. A little bit more of a darker tone than the Fireside Cardigan so depending on the dress, either of those would be a great option!
CHICWISH Women's Light Tan Knit Coat: This knit coat looks so cozy and would be great for maybe a chillier evening! Love how neutral it is and how easily it can pair with most any of the wedding guest dresses above. It's so chic too!
Cityscape Crop Blazer: I am quite obsessed with this Blazer! I think this would be so great with any of the more elegant attire above. This would pair well with anything considered cocktail attire.
---
Alrighty, there we have it folks. I have way too many options for gorgeous Spring wedding guest dresses and now so do you! Hope you guys enjoyed shopping with me! Honestly, I don't know how I am ever going to decide which dress to wear for the wedding we are going to. If you are going to a wedding soon, share your dress to give me even more inspiration! If you yourself are looking for more inspiration and you like what you saw here, check out my recent post on Spring dresses for Easter here. Until next time, loves!
XOXO