My husband and I just threw the most EPIC game night and I just have to share it with you all so that you too, can host an epic game night for all your friends! Not trying to brag, but I think when your attendees request your game night to be a monthly event, it means you threw a mean party. Here's the gist. My husband and I were looking for an excuse to use some of the new games we were gifted for Christmas.
It had also been a while since we had gotten all our people into one place for a good hang and BOOM! Thats when it hit us. Let's throw the most extra game night our friends had ever seen, one they would talk about for centuries. (Alright that's dramatic but you get my point, we weren't planning your average game night here). And so the planning began.
It took us a few weeks of planning to be ready. Of course, you don't have to go quite as epic as we did. Our friends would've been happy with a game of clue and some wine, but we wanted to create a fun experience for them and for us as well! So we took everything a step further to make sure it was a night they would remember. We did a few things to make our game night stand out. Here's how to do it:
---
Pick a theme
It may seem silly to have a theme for game night but trust me, it gets everyone in the spirit and adds to the idea that this is not your average game night. For us, we chose "Neon Arcade" for our theme and I loved how it came together. But honestly, you can choose any theme! Some ways that we incorporated our theme was having little signs my husband designed that said things like "Let the Games Begin" and "Welcome to the Duran Arcade".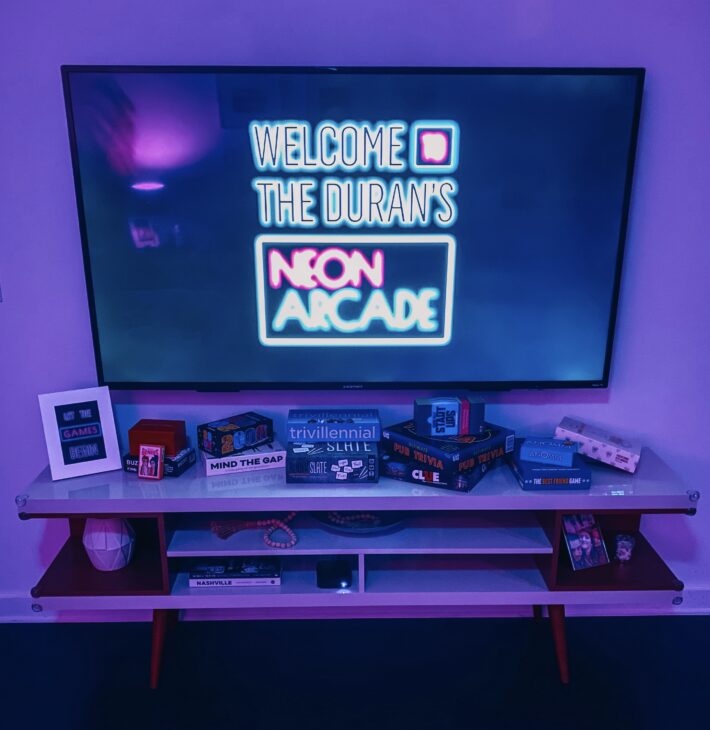 We also made a slideshow in the "Neon Arcade" theme with our Apple TV that included Trivia for our friends to partake in while hanging out. Our cocktail for the night was "Neon Arcade Punch" and we even adjusted our lighting to fit the theme as well! The possibilities are endless and people really love and appreciate the detail that can come along with having a theme. It's not necessary, but it is definitely noticed.
Get Everyone on "Board"
Pun very much intended.
We decided to text out invites to our game night to set the tone and let everyone know we meant business. We designed it with the theme in mind and I definitely think it got all of our guests excited. One fun thing we did was have everyone bring their favorite game. We had guests vote on the games once everyone arrived and the person with the most votes for their game won a prize and we would play the winning game, deemed "Game of the Night". So we made sure to mention this in the invitation.
We also included the basic invitation necessities like date, time, place and how to RSVP. (Side note: Try to get a headcount as soon as possible, because it makes the planning a lot easier knowing how many people you're planning for, especially when having to think about what games you can play). I think these virtual invitations made it a night everyone was looking forward to!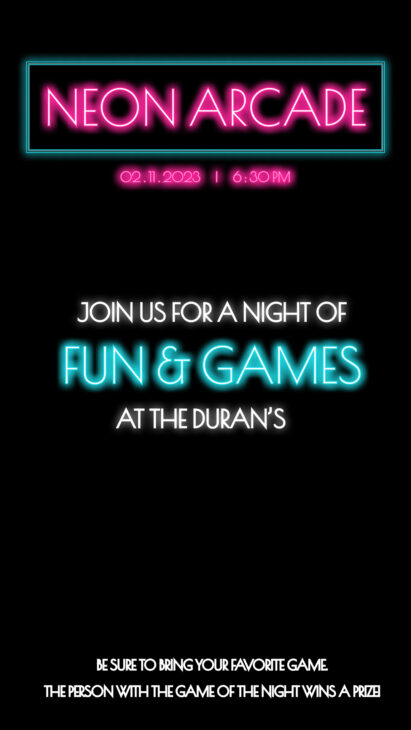 Food and Drink
Okay… I tried to keep food simple but sometimes I can't help myself. To start, I put together a little fruit salad and some pretzels and chips. I also went ahead and made some cheeseburger sliders that were definitely a hit. We only had two sliders leftover at the end of the night. Considering how much food there was I would say that's a win. I used this recipe and it was perfect!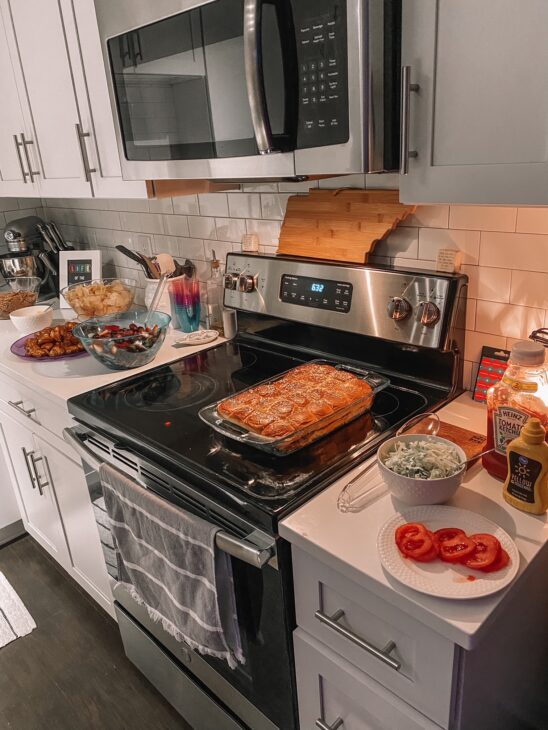 Also, I made some cheese dip and found some little soft pretzel bites at our local Publix. I used this recipe for the cheese dip. A good friend has a famous recipe she always uses for an appetizer at parties, so I asked her to bring them. She calls them "sweet weenies" and holy crap they are so delish. At every party she brings them to, she leaves with an empty tray. I can literally never get enough of them. She sent me the recipe, which you can find here. I'm going to try making them myself next game night.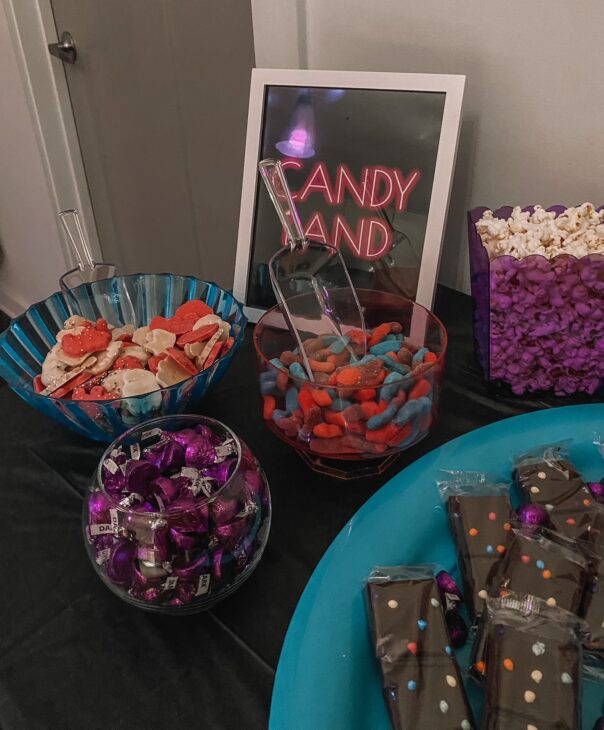 My favorite part of planning the food though, was definitely our "Candy Land" dessert table. It came out so cute! The main event was without a doubt the cosmic brownies (because who doesn't love cosmic brownies?). We also had animal crackers, hershey kisses, sour gummy worms, popcorn, M&Ms, cotton candy and some Good and Plenty's. I actually found the cutest little holders at the Dollar Store for people to use to put candy in or take home with them. Overall it came out so precious and everyone loved it. Especially at the end of the night when we were all winding down, it was so fun to get a little bit of candy as a night cap!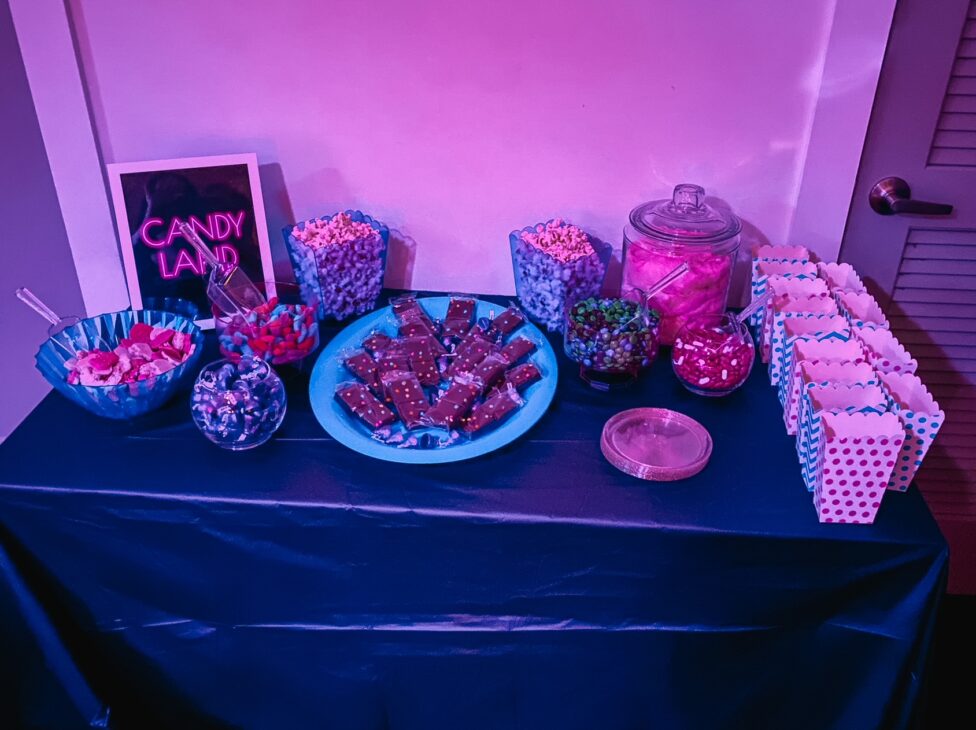 Duh… GAMES!
So… We may have invented the best game ever for our first game night. But I'll get to that in a minute. We started by making a "Lineup" or itinerary for the night. We wanted to begin with some chill time for everyone to eat, mingle and catch up. Most of our guests knew each other and have all hung out many times before, so no huge need for any icebreakers or introductions.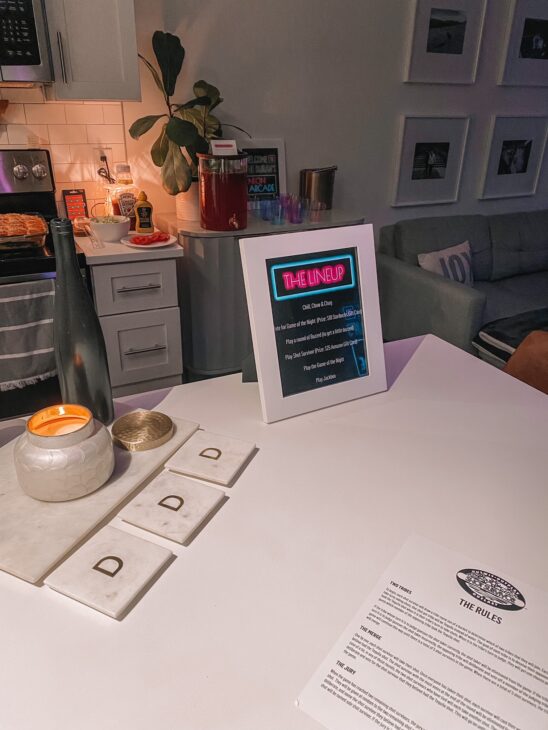 The first game on the itinerary was "Buzzed". We thought it was the perfect choice to ease everyone into the night. It's the easiest game ever, the instructions of the game are literally "Figure it out. It's very simple". And that it is! If you are looking for a game thats fun, easy and may get you a little tipsy, this is the one. So it felt like the best first game for our crew.
The next game on the Lineup was our game we invented called "Shot Survivor". To preface, my husband and I are huge fans of the TV show "Survivor". Like my husband is determined to be on the show someday kind of fans. So it felt natural that this would be a good theme for our own game, right? Except there's no being stranded on an island but there are… you guessed it, shots.
I'll attach the rules below but the concept is quite simple. You start with two teams, or tribes. Everyone on each team gets a shot glass filled with water. Well everyone except for one player on each team, who will have a tequila shot instead of water. The goal of the whole game is to be able to guess who on the opposing team is the one who had the shot, as well as deceive your opponents into believing you did or didn't have the shot.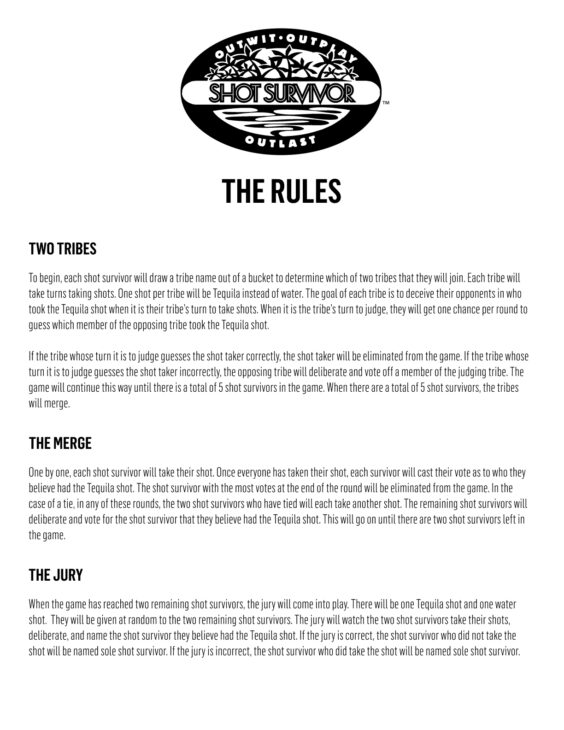 It's a game of strategy, alliances, deception and depending on your luck…shots! We did tequila (and included lime wedges for everyone, you're welcome friends) but you can also use vodka. This game was SUCH a huge hit with our friends, people wanted to play a second round! I highly recommend, not just cause I helped make it up, but also because it was just so freaking fun!
We went on to play the "Game of the Night" which was "Do You Know Me?" and it was so much fun! The concept is pretty simple: you each take turns getting asked a handful of questions. Every other player has some yes or no cards and they have to put face down the answer they think the player in the hot seat would answer. The player with the most correct answers gets a point and the player with the most points at the end of the game wins! I loved it because I think it's a great game whether you're in a group of people you are just meeting or a group you've known for years. I love love love games that bring people closer together and create opportunity for connection. This game is perfect for that, but it also leads to some hilarious moments and storytelling too.
We ended the night with some Jackbox games, which is always our favorite thing to do. We all gather around the TV and just make each other laugh hysterically with these games. In my blog post "Best Games for a Friends Game Night", I talk about what Party Pack we have that we love (along with some other games we love to play at game night) so you can check that out here!
Good People/Good Vibes
At the end of the day, the thing that made this game night so much fun is truly the people that showed up. Honestly how lucky am I that we have a handful of amazing friends that are happy to come spend time with us, indulge in our theme and our newly invented game, and dive in no questions asked and make it SO much fun.
---
My husband and I love creating space in our home for friends to relax and have fun. We make it our mission to make people feel special when they come over to our place. And this game night was exactly that. You don't need anything else on this list, because if you have the good vibes and the good people you will without a doubt have a good time. BUT the rest does add a little bit of… spice. And come on, who doesn't want to travel back in time to college when every weekend you lived for the next theme party. Or was that just my college?
I hope you all enjoyed reading about how we hosted the most epic game night of all game nights! Can't wait to hear how you guys make yours even more epic than ours.
XOXO
Events
Lists
Party