If there is one thing I know, it's that it's so hard figuring out what baby registry essentials are actually essential. I remember when my hubby and I were getting ready to have our little girl, Callie Grace, we went to a coffee shop and hogged a table for a good three hours googling and researching what we needed and what we didn't. I like to focus on the positive more than the negative, so I wanted to point out some things I got off my baby registry that I truly use every single day.
Every Mama is different because every baby is different. So please don't be disappointed if your baby doesn't take to certain things the way another baby does. I know so many people who swear by baby carrying and Luke and I were so excited to be walking around the neighborhood with little Callie on one of our chests, sleeping soundly because she was so comforted by being held by one of us. Except she HATES being put in a baby carrier and screams bloody murder for no reason other than she senses it was something we were excited about and she's just stubborn that way. (Just kidding, she's perfect).
If you are having a hard time rounding up all the essentials and want to cut back just a little of that three hour googling session, allow me to introduce myself! I am Christina Duran and I don't have all the answers in life but I CAN pull together a mean baby registry. Here are my fave baby registry essentials!
---
Snuggle Me Organic Infant Lounger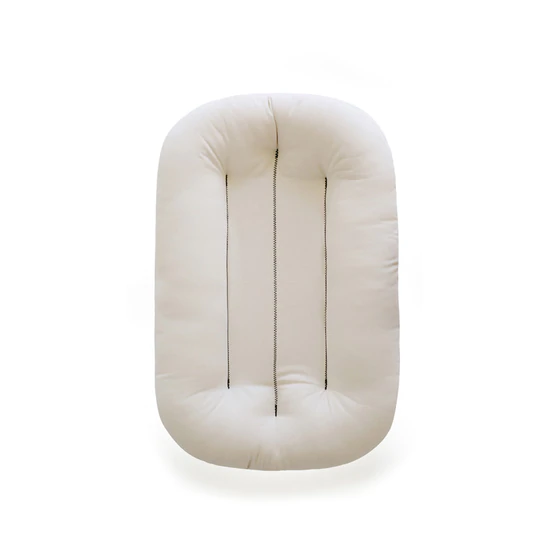 I wasn't quite sure how much we were going to use this, but I saw so many people using this or one like it that I added it to my registry just in case. Thank you to myself for doing that because we use this all the time. We put it on the couch and do play time on it. We also put it under her activity gym and it gives her a comfy place to lay on the ground. I would recommend getting the covers because yes they will spit up or blow out on it plenty of times. I didn't get the cover right away and it has a few stains on it. But I love having something that is always within reach that I know will keep my girl safe and comfy!
Aspen and Maple Activity Gym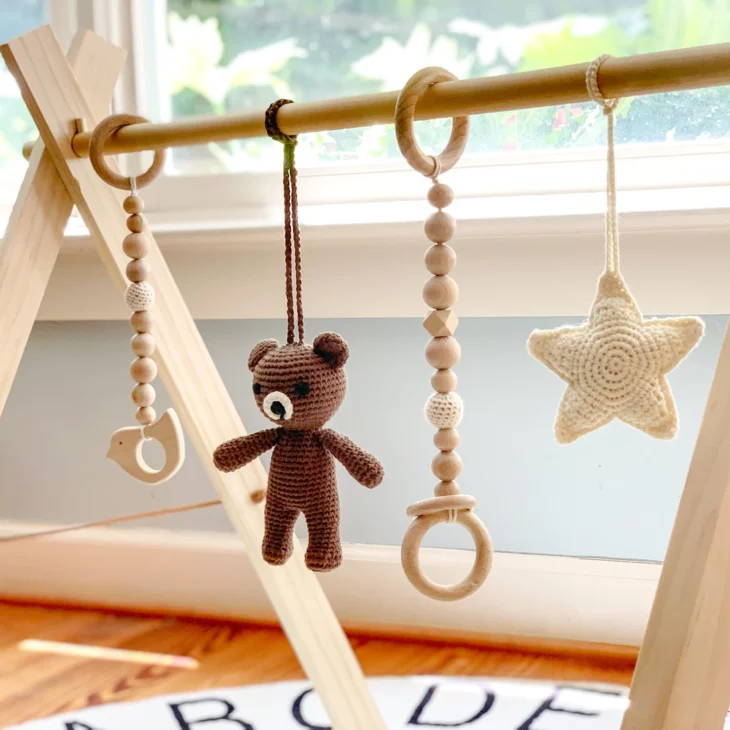 I just LOVE this activity gym so much! We have it out in our living room all the time so I love that it matches our decor but is still something that entertains Callie at play time. She loves staring at it! Her favorite thing to look at is the teddy bear. It was actually the first toy that she paid attention to once she started to be able to focus a little more! It is super lightweight and foldable so it's easy to store if needed.
Tummy Time Mirror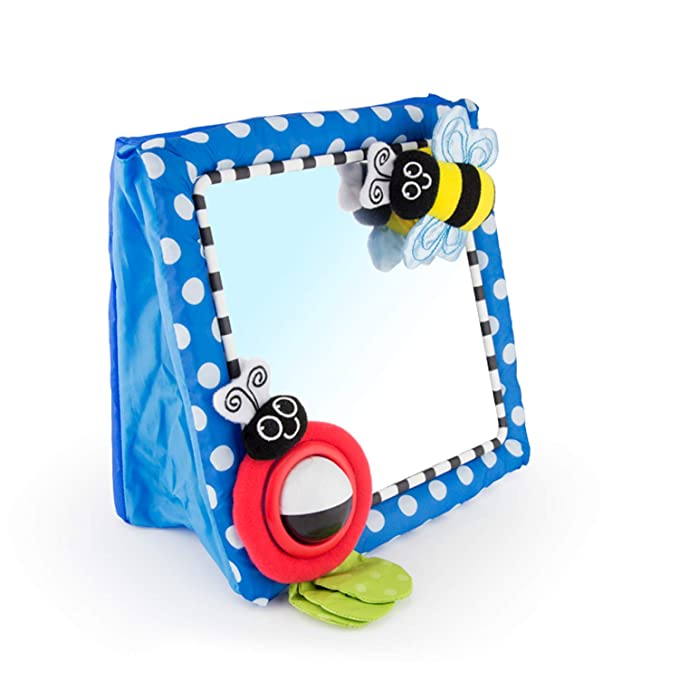 This mirror is something that Taking Cara Babies recommended for tummy time that we didn't actually get until after Callie was already born. We were looking for things to help encourage tummy time. I am so glad I stumbled upon this article where Cara recommended this. This mirror is the thing that makes our girl smile more than anything. We figured out it is the bumble bee on the top corner of the mirror that just makes her so incredibly happy. She always gives the biggest smile when I hold this up to her.
It has been one of the best purchases we have made. I would recommend it to anyone as an essential baby registry item. I always think it's nice to have a mix of expensive and inexpensive things on any registry. It's always nice to give people options as to what they can and can't afford. So this would be a great thing to add for someone who wants to get you a little something to celebrate you but isn't planning to shell out a whole lot! Hopefully this makes your little one smile as much and as big as it makes ours!
Mushie Burp Cloths
I never thought I would have such a strong opinion about burp cloths but here I am raving about how AMAZING these are. There really aren't any others I have used that compare. They are so soft and absorbent, and they come in the cutest colors. Because they are so absorbent, they last more feeds which means less laundry. And I love anything that means less laundry. I would also suggest getting more of these than you think you need. We have these all over the house just in case! Cause spit up happens a lot! This is definitely one of my favorite baby registry essentials!
Graco DuoGlider Gliding Swing
Everyone made fun of me because I had a million things on our registry that were just different places for Callie to sleep. But thank goodness because she does a lot of sleeping! And this swing has honestly been a lifesaver in the sleeping department. I personally love rocking her to sleep when I can and it makes sense. But sometime's I either can't because I have a ton of other things to do or my arms hurt and she's still fully wide eyed. This swing is perfect for when nothing else seems to soothe your baby. She loves to watch the bunnies too!
I usually put it on either setting 2 or 3. We don't typically use the music feature cause she honestly doesn't need it. It's also great for when she wakes up early from a nap but isn't quite hungry yet. I will put her in the swing and she will either nod off again until she is hungry or be entertained enough by the bunnies to last her until her next feed. You can also raise this into a seated position for when they can hold their heads up so they can look around the house while they sit. Highly recommend this baby registry essential!
Baby Bjorn Bouncer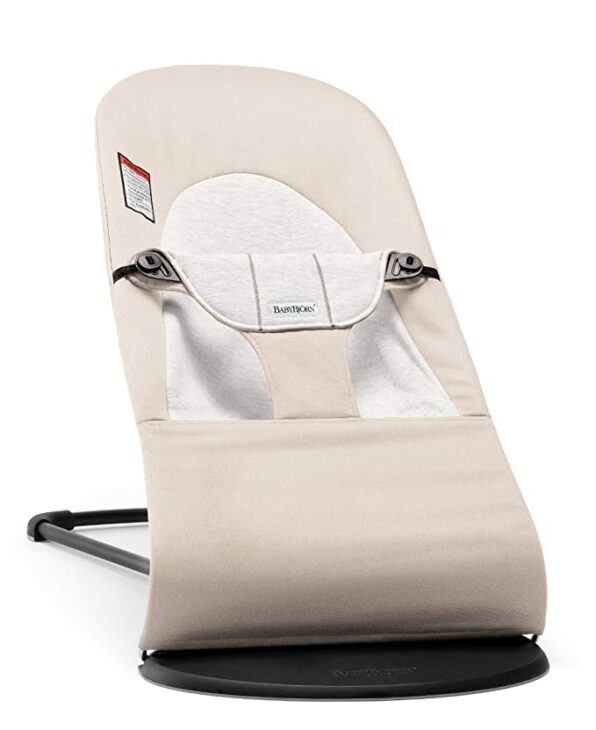 This item we didn't start using until our girl was about two months. She wound up loving it so much that I was kicking myself wondering why I didn't use it sooner. When I first put her in there and starting bouncing her, her face lit up. She loves movement so this always immediately calms her down if she is fussy!
It's perfect for play time because you can sit them in it and show them high contrast cards or shake rattles in front of them. You can also put a mirror in front of them! This thing always keeps her entertained! It is also a great tool to use if you need your hands free, like if you need to get ready for the day but baby is still wide awake! It doesn't take up much room either which I love compared to some other play bouncers and swings. We are a big fan of this bouncer here in the Duran house!
Diaper Genie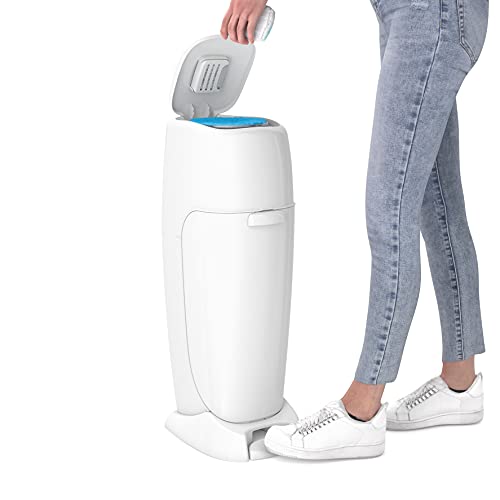 This is something that I read in multiple articles about it not being worth the purchase but I totally disagree! Now that we have it, I honestly can't imagine not having it. I wouldn't want to be putting her dirty diapers in the bathroom trash or the kitchen trash. And the Diaper Genie really does a great job of keeping the odor locked in. I never walk into her nursery being greeted by poo poo diaper smell. This was a big win for us since her nursery is right by the front door of the condo and we really didn't want that to be the greeting for anyone walking into our home. We use the Diaper Genie brand bags and they work so well and are so easy to use!
Halo Swaddle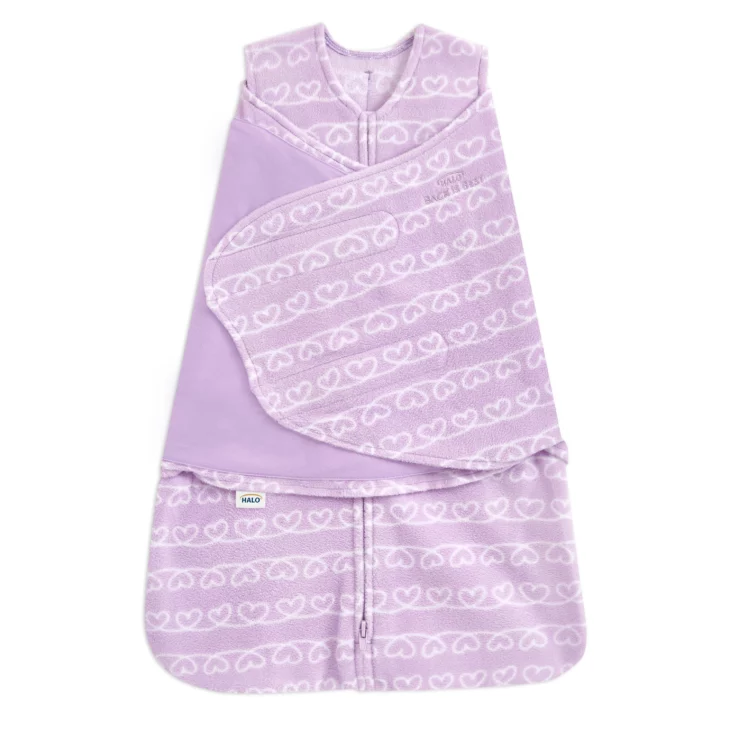 When we got home from the hospital, we were still using muslin cloth swaddles all the time. Those were the ones we had practiced with and what my husband had been using for the week in the hospital. He was the "swaddle master", a title he clearly gave himself. Regardless, we thought it was working until our little girl quickly became an escape artist and made it her life's work to get her arms out of the swaddle at every single nap. I wouldn't have minded her having her arms out, but because she didn't have great control of her arms yet, she would wind up swinging them around and hitting herself in the face, which would wake her up from her nap. That's when we decided to order one of these Halo velcro swaddles.
She acted like she didn't like it at first, but once she fell asleep we could tell it made a huge difference. She started sleeping through the night (HUGE win) and getting longer naps in during the day. It definitely made our lives easier and we immediately bought like five more. Definitely worth the hype, and I think worth the money. I would say maybe get one or two muslin cloth swaddles just to try it out, but definitely have these handy. I feel like once you try it, you'll be switching over until they start rolling over.
UppaBaby Vista V2 Stroller and Mesa Car Seat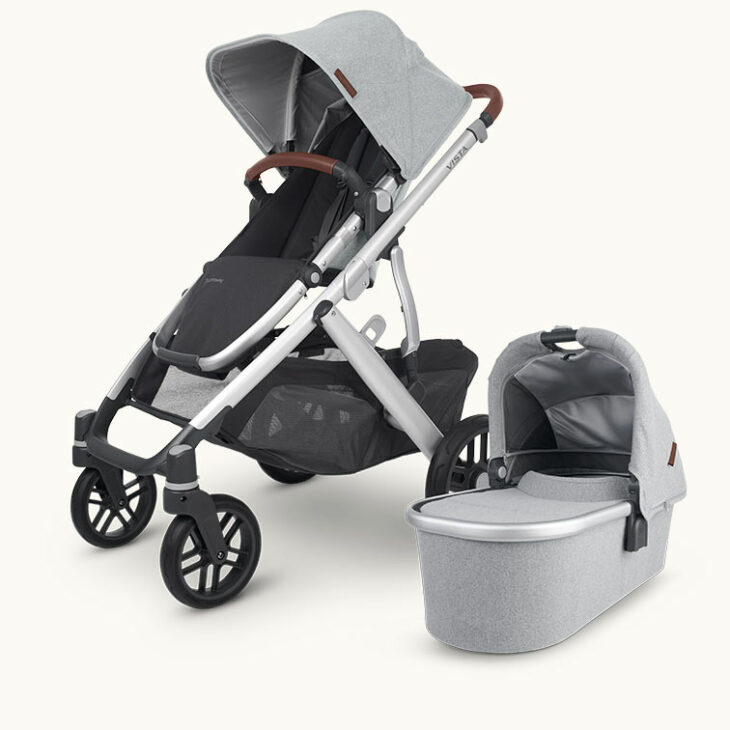 My husband and I literally play a game when we go out of who can spot the most Uppa Baby Strollers because oh my lanta they are everywhere! And you guys, they are worth the hype 100%. We were going back and forth between the Uppa Baby and the Mockingbird (which I have heard is super similar for half the price) but we are so glad we put this on our registry. I know this one is super pricey, so it may seem tough to add it and expect anyone to get it. For us, we had multiple family members pool together to get this for us and we are so thankful they did. We use this thing every single day, so it makes sense that it is something worth splurging on.
It feels so incredibly smooth to push, there is a ton of storage space on the bottom, comes with a toddler seat and a bassinet and the car seat just clicks right into it. We have loved having the bassinet for neighborhood walks, so Callie can stretch out in it or nap while we go for a stroll (pun intended). We haven't used the toddler seat yet because she can't quite hold her head up. It comes with a million covers for literally any weather condition you can imagine.
The car seat is so great as well and easy to carry. I love that it just clicks right into the stroller so I don't have to worry about taking her in and out of the car seat every time we go out. I could go on and on about all the extra's this thing comes with and how incredible they all are but all I can say is just do it. Get the Uppa Baby Vista V2 if you can swing it. I promise it is worth it!
Freshly Picked Diaper Bag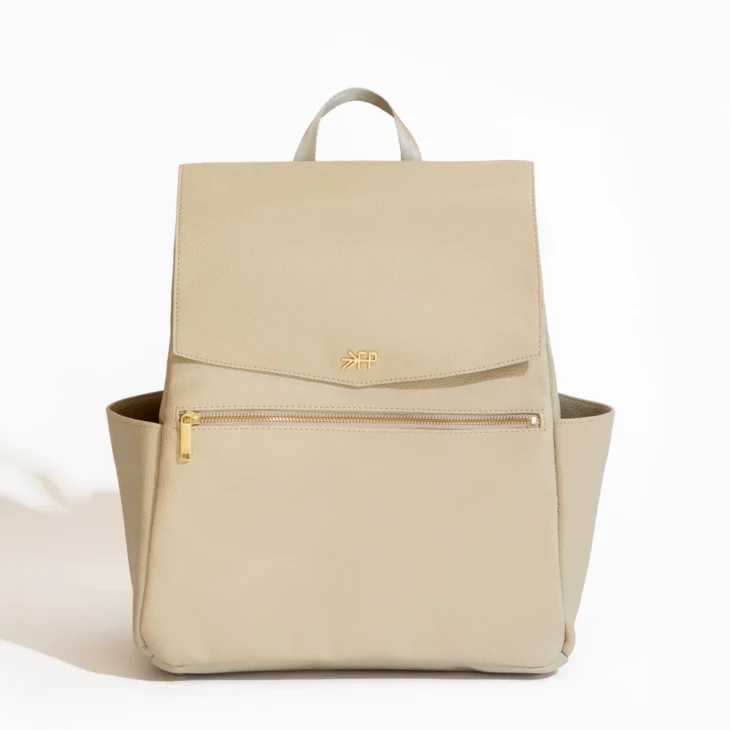 I am so obsessed with this diaper bag! Honestly I mostly fell in love with it because it's gorgeous. But I could not get through an outing with our girl without it. It has a little changing pad which has proven to be very useful considering Callie always waits until 10 minutes after leaving the house to blow her diaper up.
I love that it has plenty of compartments! It has a little insulated pouch for breast milk and has SO much room to stuff it with everything you can possibly think of. I truly feel like a real like Mary Poppins with this thing. It's so easy to wear and also fits perfectly in the bottom of my Uppa Baby Vista stroller. Love the side pouches on the outside for pacifiers and toys. I also always wind up stuffing my phone in the back pocket! This is definitely a baby registry essential you need to add ASAP!
Boppy Nursing Pillow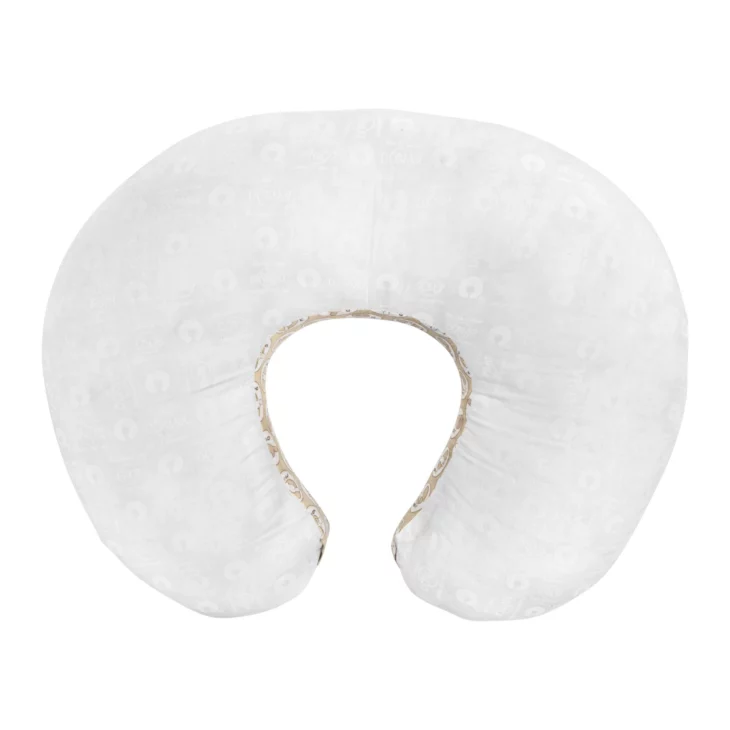 This thing is truly a God send. I use this at every feeding. It just makes it so much more comfortable for both my little girl and I. One of the hardest things in the first few weeks is finding out how to be comfortable while holding your newborn. Whether it's while your rocking them or feeding them. It's so hard to figure out how to do it with ease. THIS is the thing that helps you feed with ease. What I love is that I know when I am using it that Callie is comfy which is comforting within itself. I can feed her with one hand and run my other hand through her hair or play with her little chunky feet.
I also love that it is multi functional and can be used for help with tummy time or sitting upright. 100% would highly recommend this whether you are breast feeding or bottle feeding. Either way, it is something that will grow with your baby and always be useful in one way or another.
---
I hope this helps just a bit in getting some of the essentials on your registry! These truly are things I use every single day, multiple times a day. These of course aren't ALL the essentials, but they are the most important ones to me! If you aren't quite at the stage in life and not quite looking for any baby registry essentials, check out my wedding registry essentials here where I round up things I loved on my registry and things I wish I had added. Good luck hunting down all your favorite baby registry essentials! And remember, all your baby truly needs is a place to sleep, a way to eat and you. Congrats mama, the fun starts soon!
XOXO