I must say, when I think back on my wedding day, there are a lot of precious memories and details that come to mind. Not a single one of them have to do with our registry. Which I think is fair considering gifts are not what your big day is all about. HOWEVER, a registry is a pretty dang amazing part of the overall wedding process because if you choose wisely, it can really set your family up in the long run. And let's be honest here, you know since we're friends and all, it's FUN! Nothing feels better than running around a Target with one of those scanning guns and letting loose for a few hours with your soon to be hubby. It honestly was to me the equivalent of a night on the town, except instead of a vodka cranberry it was a tall skinny vanilla latte and instead of a bar it was the Hearth & Home section of my local Target.
Because of the excitement, there are definitely some things I wish I could go back and tell myself, "No sweetie, you don't need that farmhouse style wall art that you'll hate within a year and never put up but feel bad getting rid of so you put it in storage never to be seen again." But we also made some good decisions along the way and got things that two years later we still use on a daily basis. Here are a few things that we got on our registry and loved, and some things we wish we had thought of!
---
Air Fryer
When I think of our air fryer, one word comes to mind: life changing. Okay I know, that's two words but you get the idea. The air fryer literally makes anything taste good and it's so quick and convenient, it's hard not to love. Especially in your first year of marriage, when you are starting to work with your significant other to prioritize budgeting and eating at home, it's so nice to have something that makes cooking so easy. Yes, even my husband knows how to use it (big win for me).
When we got married and first got our air fryer, they were newer on the scene, so there weren't as many options as far as types of air fryers out there. Now it seems everyone and their mother already has one, so if you do, go you! But if not, it's definitely something you should consider adding to your list!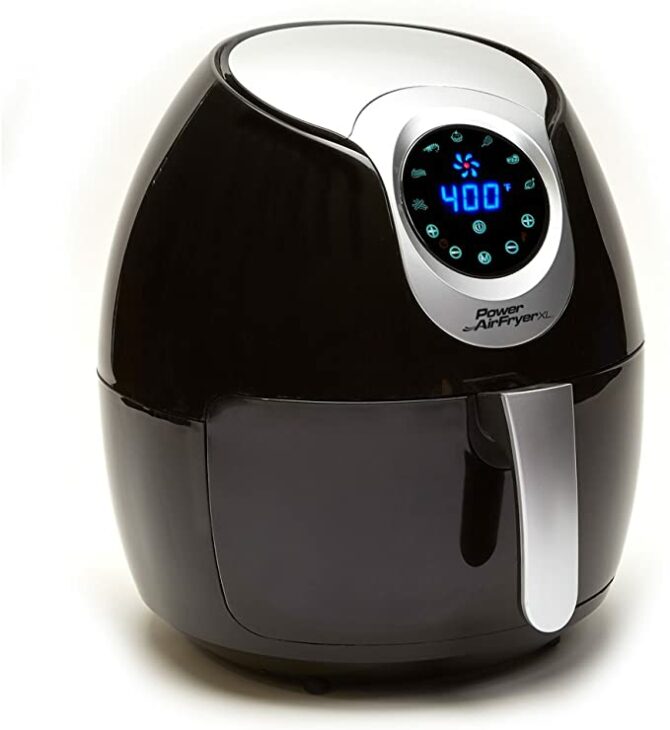 Nice Dinnerware Set
Alright, I know this one seems kind of boring, but trust me you'll thank me later. There is nothing that says "I'm finally an adult, hear me roar," quite like having a fully comprehensive set of dinnerware. Before my husband and I got married, we had a mish mosh of dishes that we had collected or were handed down to us over the years. This is fine for your "I just finished college, cut me some slack" phase but once you move into dinner parties with friends and mom's coming into town for Thanksgiving territory, it makes all the difference in the world to have some cohesive dinnerware.
Honestly, the reason I loved having it on the registry so much is because it's definitely not something my husband or I would have thought to spend some good money on, but now that we have it, we love it! My suggestion would be to make it a simple set, nothing too reliant on the rest of your decor, since that could always change in a year or two. We got both a more casual set and a classic white set that we could dress up for nicer occasions. They no longer sell our classic white set that we got at Macy's, but I linked one similar that I would get now if I had the chance!
KitchenAid Mixer
A KitchenAid Mixer is another one that may have taken my husband and I years to actually buy for ourselves. Not because we didn't want it, but just because it can be an expensive piece of equipment to shell out for. It was actually a gift off of our registry from my husband's grandparents, which we were so thankful for because we honestly didn't think anyone would actually pick it off the registry!
I am by no means a baker, but you better believe I have cranked out some damn good cookies and cinnamon swirl cake once we got our hands on this bad boy. And let's be real, it is GORGEOUS in any kitchen. It's definitely inspired me to bake more and experiment with some new recipes that I wouldn't have tried without it, and I think when we have kids it will be so fun to use it to bake with them as well.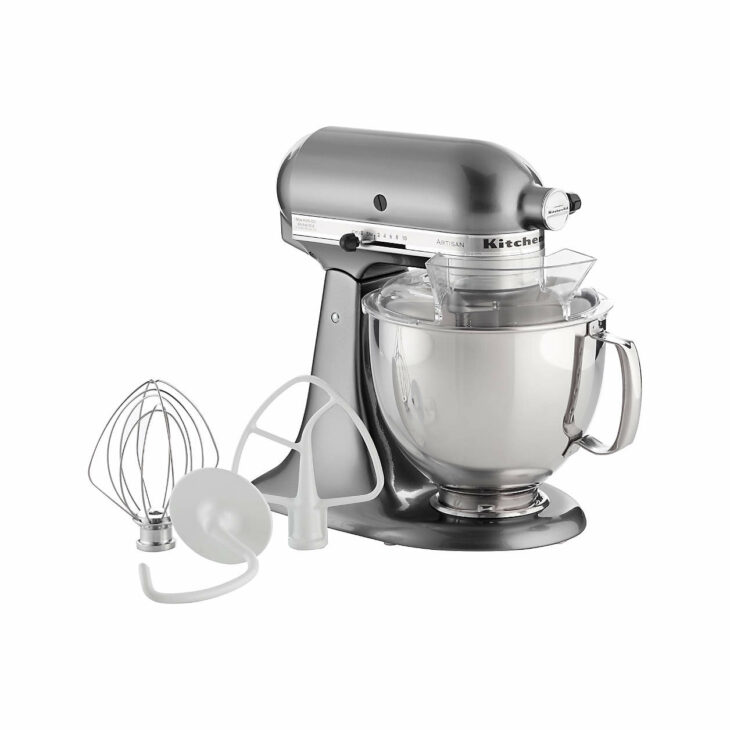 Always Pan
Now this is one I SO wish we had put on our registry. Especially now that we cook so much at home, having a good non-stick pan like the Always Pan that can basically do any and everything would be a dream. I hear so many good things about this magical pan and practically every month my husband and I are like, " hey we should get that," and then we never do. One of these days we will eventually pull the trigger and buy it but for now I will add this to my list of things I kick myself for not putting on our registry.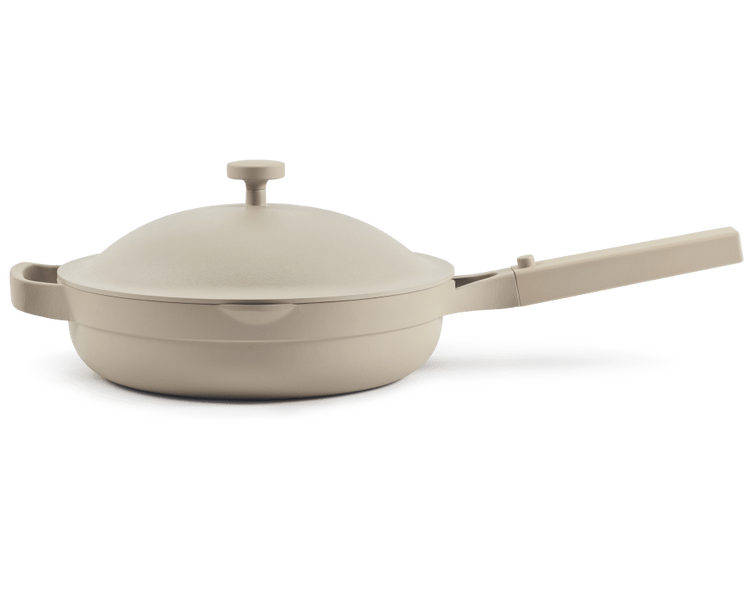 Good Coffee Machine
Okay, I may be a little biased because we were just gifted the most magical thing on earth: a Nespresso machine. We've always had a Keurig, and it has worked fine for us over the years. But having a machine that makes GOOD coffee at home is a game changer and I wish we had done it sooner (although we got it just in time for our baby's arrival and that within itself is a blessing). Whether you are Team Keurig, Team Nespresso or Team whatever else there is, make sure to add a quality coffee machine to your registry.
Side note: If you are thinking about getting a Nespresso machine, we got the Nespresso Creatista Plus in Black Truffle. It has a built-in milk frother for lattes, is so simple to use and It. Is. Gorgeous.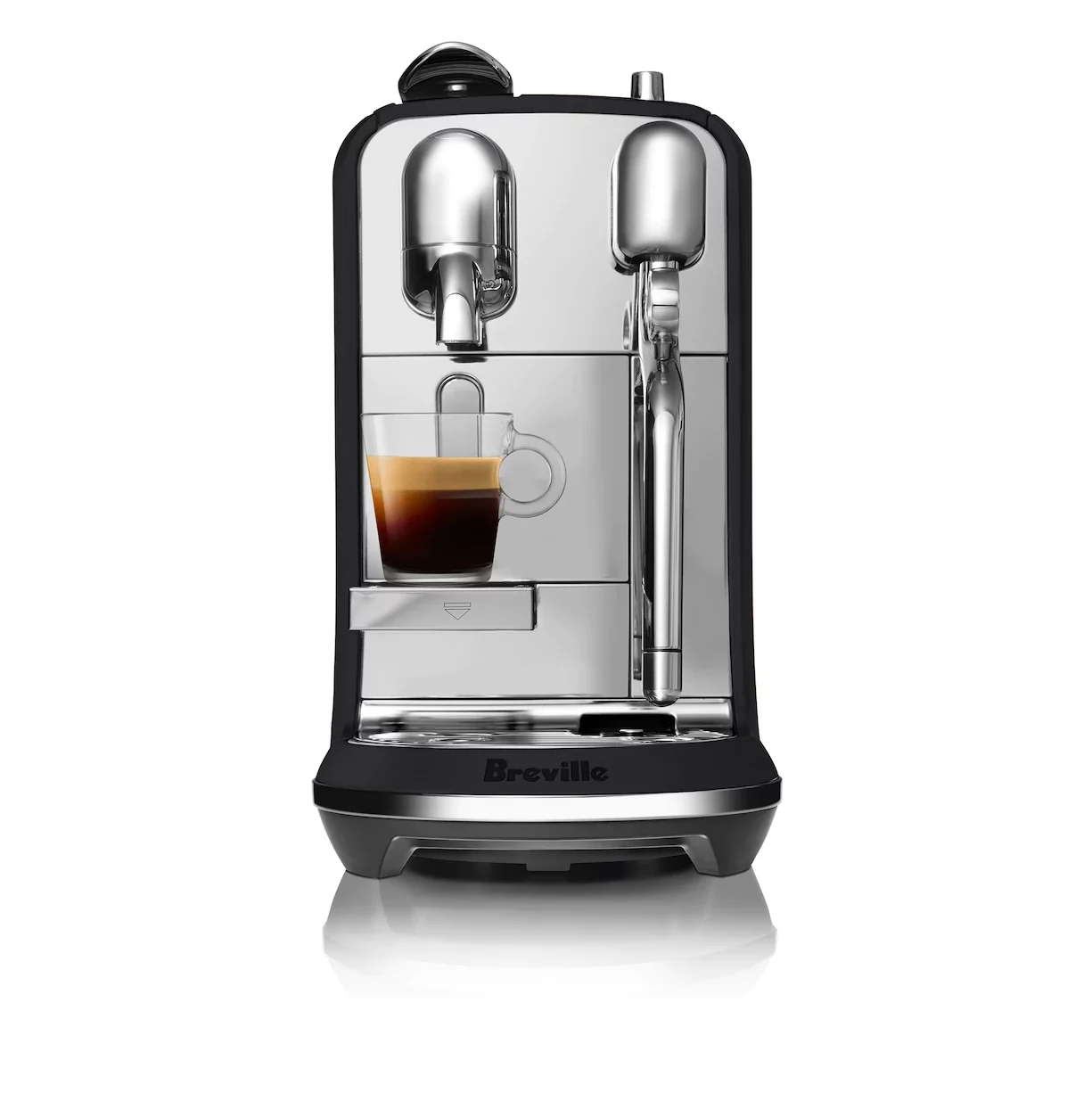 Get Organized
We dipped our toe into the organizational pool a bit for our wedding registry but I really wish we had added more, particularly organizers for the fridge and pantry. We did get a set of the OXO containers for the pantry from our registry, which have been amazing, but we definitely could have used more to get us better set up. Good quality organizers are expensive, and honestly you can never have too many.
We recently re-organized our pantry and in preparation, my husband and I spent a wild Friday evening at the Container Store, throwing down stacks of cash on a bunch of gorgeous baskets to hold all of our snacks. If you want to see how our pantry came together, check out this post for everything we used. At the time I was 9 months pregnant, so trust me we had a lot of snacks. It sounds crazy, but I have never felt more satisfied than seeing our entire pantry organized, with everything having it's place, beautifully staged in a way The Home Edit would be proud of. I guess this is adulting?
Anywho, my point is, the only thing I would have done different with my pantry is that I would have done it way sooner. As in, don't wait until you are 9 months pregnant and in full on nesting mode to get organized.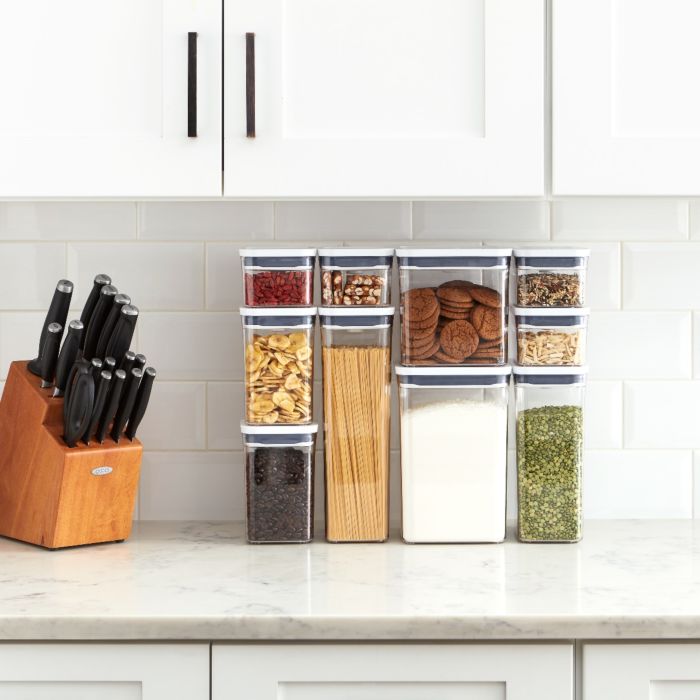 ---
Bottom line, I do wish that instead of adding lots of decorative pieces for around the house, that we would have focused on functionality a little more. I know it's a little less exciting than the ice cream maker you may be eyeing, but your future self will thank me. Use your registry to set you and your family up as best you can, because that's the whole point, right? Think about what is important to you and your hubby, and get that registry started baby!
XOXO
Essentials
Gifts
Lists
Marriage
Registry
Wedding