Coffee is a big part of our morning routine in the Duran house, so naturally a functional and beautiful coffee bar seemed like a necessity. We recently received our new Nespresso machine as a gift (a perfect new mom and dad gift might I add). It felt like the perfect time to really make our coffee bar our own. I had an idea of what I wanted the overall design to look like. Bright and simple were the two words running through my head for this space. I wanted a coffee bar that could compliment the rest of the kitchen and also stand alone as it's own cozy corner.
With that being said, off I went on my search for the perfect pieces for this space. I really tried to stick with local shops I love. And boy, they did not disappoint! Our coffee bar turned out even better than I had imagined. I loved scouring these local Nashville shops and finding everything I wanted and more. I would say it came together pretty well.
Check out all of the items I used below!
Coffee Sommelier: A Voyage Through Culture and Rites of Coffee Hardcover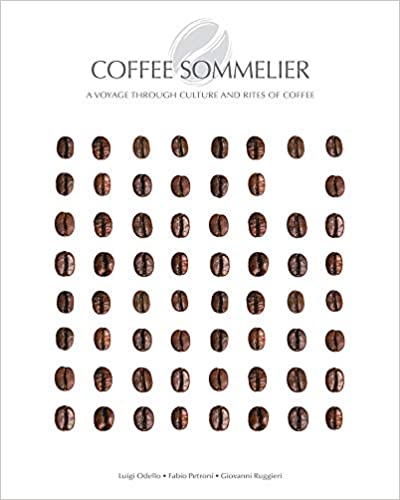 When searching in one of my favorite local shops, Barefoot Cottage, this book immediately caught my eye. I was on the hunt for a beautiful book that would accent the coffee bar well and my, oh my this was it. The cover art is so beautiful, the coffee beans on the front are exactly the statement from a book I wanted. I also love that there are some grey accents on the spine of the book. The coffee bar and my kitchen overall have some of that coloring sprinkled throughout so it was a perfect choice.
Inside, the pictures are stunning. It is actually a super compelling read if you are interested in the art of coffee, how it's made and the history behind it. Also it makes me look like I know what I'm doing, even if I'm just pressing buttons and letting my Nespresso do all the work. This would make for a great coffee table book as well. You really can't go wrong with putting this anywhere in your home. I couldn't find the link on Barefoot Cottage's website, which is where I originally found it. I went ahead and linked to it on Amazon!
Brew: Better Coffee at Home Book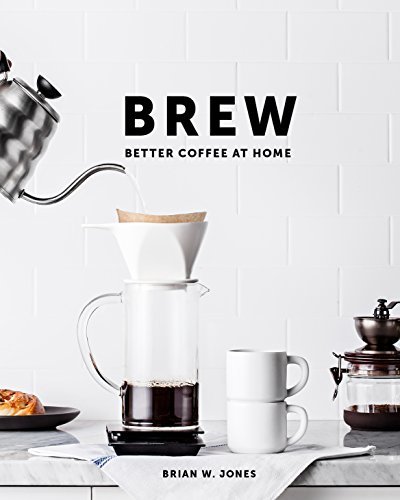 This is a book that we have actually had for a few years, but had displayed on our TV stand. It is so sleek with a modern, minimalist vibe which I love. This book really dives into making quality coffee at home. It breaks it down and simplifies terms and techniques in a way that makes the art of coffee much more approachable.
The cover is gorgeous, again with a grey, white and black color palette so a perfect choice for our coffee bar. The big, bold "BREW" on the front and the spine of the book pop and make for the perfect coffee bar book. This one is also great for any shelf or coffee table, so one I would highly recommend for any need!
Irish Coffee Mugs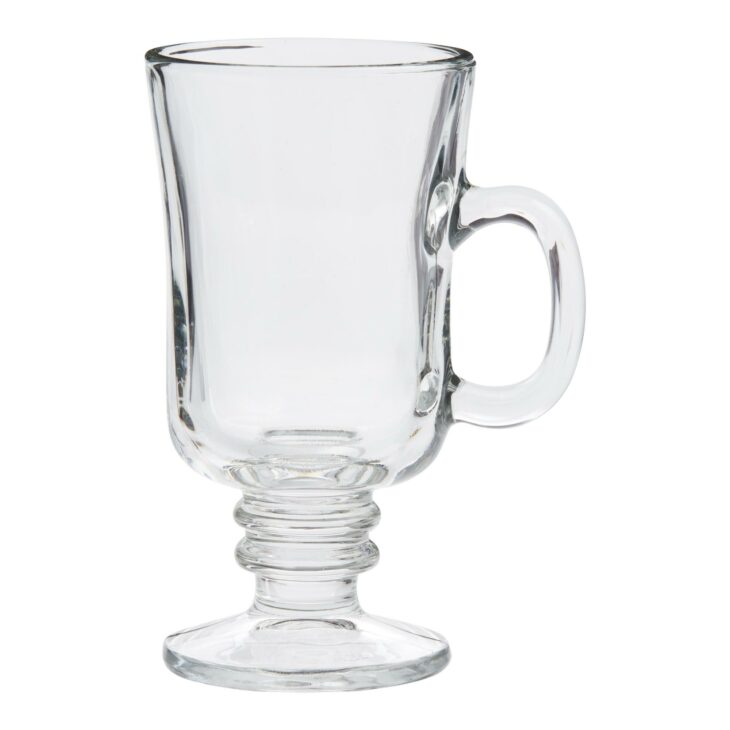 I had such a hard time deciding on mugs I wanted to display on the coffee bar. There were so many that I liked, it was difficult narrowing down to just one set! When I set out to style my coffee bar, I knew in my head I wanted some sort of glass mugs. I think they are so beautiful, and any drink looks a million times better in one.
Ultimately I decided on these Irish Coffee Mugs because they look so cool and unique. They aren't your typical coffee mug which I love and a latte really looks gorgeous in these. I found these glass mugs that I loved as well, but wound up just keeping them in our mug cabinet (yes we have a mug cabinet because I just can't help myself) because they were a bit too big and bulky. I love the thin, tall shape of these Irish coffee mugs because it adds more levels and complexity to the display but it also doesn't distract. Plus, they were each $2.99 from World Market. You read that right, how on earth could I pass up a deal like that?
Torani Coffee Syrup Variety Pack – Vanilla, Caramel, Hazelnut, 3-Count, 25.4-Ounce Bottles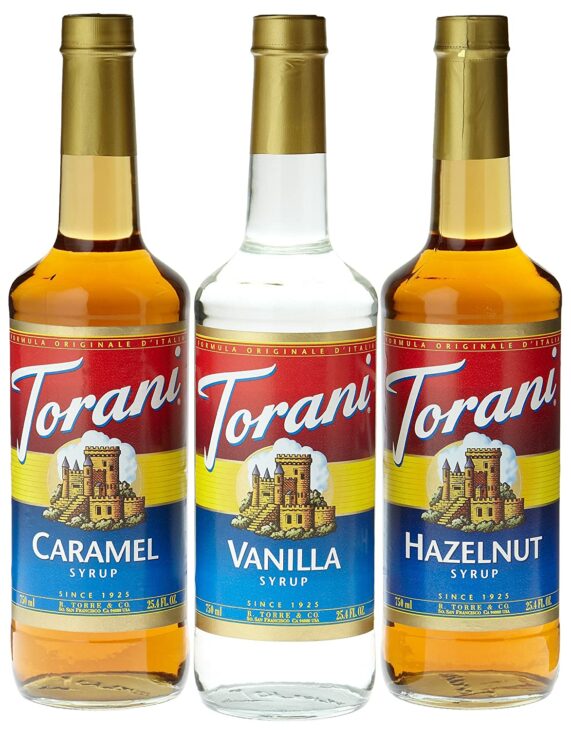 We all know that Torani Coffee Syrup is the go-to for at home latte making. I went with the three count to start because I felt that was plenty for just me since my husband doesn't really like his coffee flavored (he takes it black, no cream or sugar – Lord, help him). These three flavors happen to be my favorites when ordering lattes so it worked out perfectly. When we get into the Fall and Winter seasons, I will definitely wind up splurging on some more flavors.
I recently went searching on the Torani website and I highly recommend you do the same. They have SO many flavors for any time of year but the seasonal ones are the ones I have my eye on. The first ones I will get will probably be Brown Sugar Cinnamon, Butter Pecan, Peppermint, Pumpkin Spice and Gingerbread. My mouth is literally watering right now, oh my god.
When I was at World Market searching for the coffee mugs, I also noticed they have a great selection of these coffee syrups with lots of sugar-free options too. Definitely go there if you don't want to order them online. I can't wait to try all the flavors but for now I feel like these three are the staples of any coffee bar and a perfect starting point.
Coffee Syrup Bottles, 8oz – Minimal Style – Refillable Glass Syrup Bottles with Waterproof Label – Coffee Flavor Bottles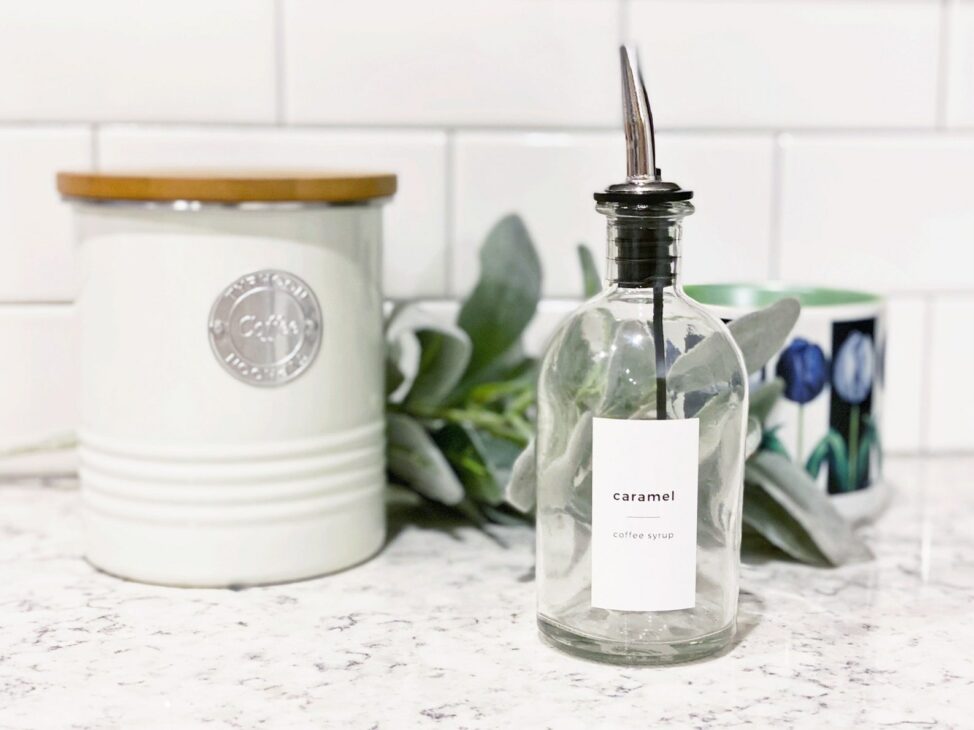 When I got the Torani syrup's off Amazon, I loved them but wished that they matched the aesthetic a bit more. That is when I feverishly started searching far and wide for coffee syrup bottles that would compliment the space more. I stumbled upon this shop on Etsy and fell in love with these bottles and the simplicity of them. I hadn't decided if I wanted a pump or one of these dispensers and honestly I am so glad that I went with these.
The syrup flows out of these so smoothly which I love. I think the minimalist labels are exactly what I was looking for and the white and black really ties everything in. I will say, they are a little small compared to the bottles that came from Amazon so just be prepared that you may have to refill them sooner than you would think. Other than that they are absolutely perfect for this coffee bar!
Peperomia Frost Plant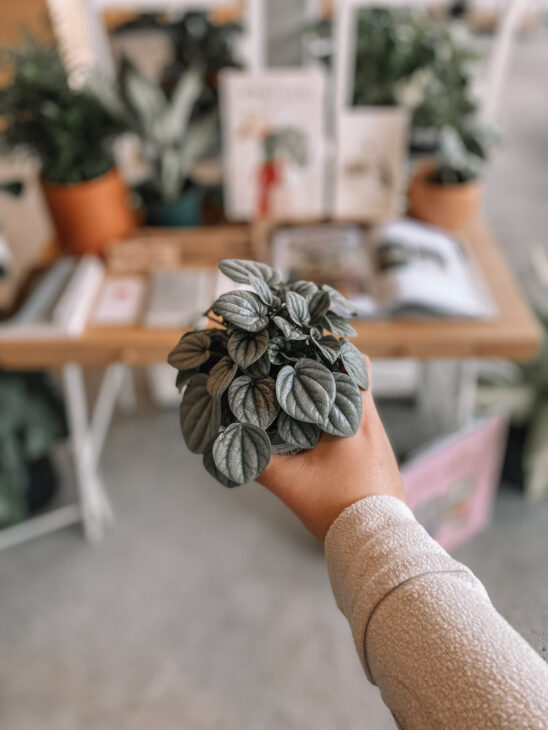 I knew when I was preparing to style my coffee bar that I wanted to add some greenery to warm the space up a bit. I think when keeping a space mostly white and bright, a green pop of color is the perfect addition. When on the search for the plant for this space I really wanted a deeper green color. My search took me to a gorgeous local plant shop called Flora.
Let me tell you this place is stunning. It's the perfect spot for finding your new plant baby in the Nashville area. I stepped inside and was immediately overwhelmed with the insane amount of choices. Any and all of them probably would have been a perfect for the spot. It was really nice being able to discuss with the employees what they thought would be best for the space in terms of conditions and care. Ultimately they helped me narrow down to this Peperomia Frost Plant. I think it really is the perfect fit and rounds out the whole space. It wouldn't be complete without it in my opinion!
Plant Pot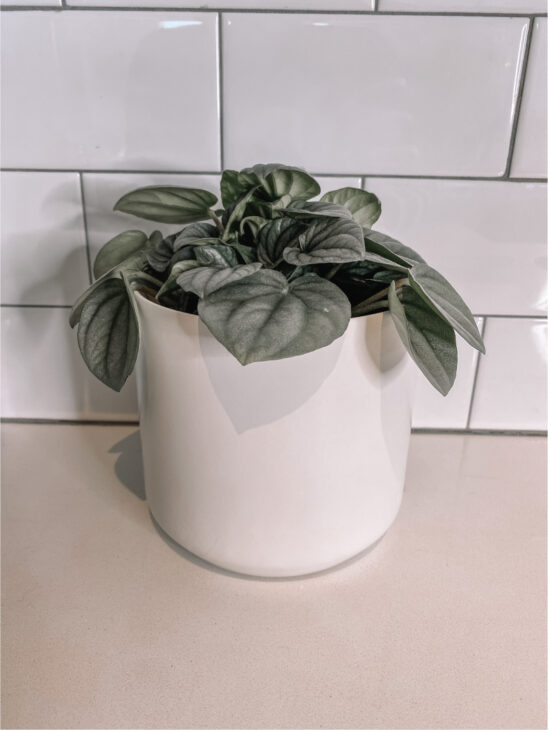 This I went back and forth on how to style. Ultimately I came to the conclusion that bright and simple was the way to go. I went to a local Nashville shop called Bloom which does gorgeous flower arrangements. They also have a cute plant shop as well as some fun miscellaneous items like baby clothes and toys. In there I found some great planters but knew that I wanted something matte.
They had this same planter in white, black and grey. I really think any of them would have been a great fit. Finally I decided that the white pot would compliment the space the best and allow the deep green from the plant to pop. Unfortunately, they don't have this pot linked on their website but you can find some similar pots here and here. Or if you are in the Nashville area, go check them out on Belmont Blvd!
White Terrazzo Tray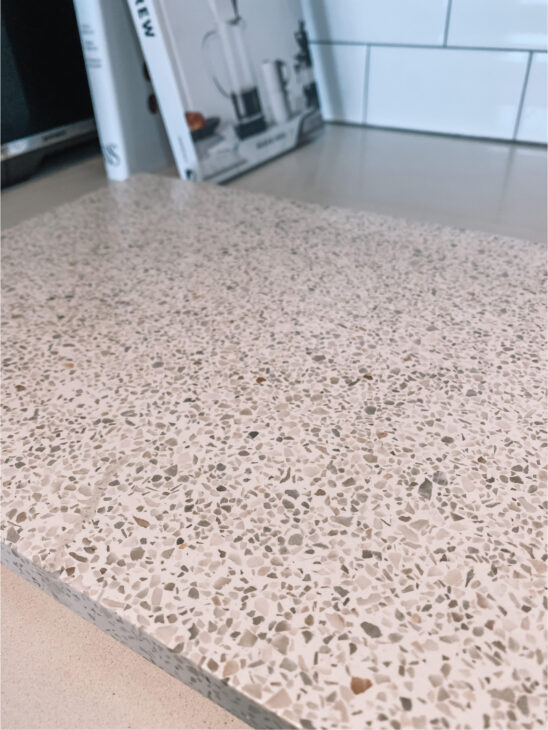 This is by far my favorite part of the space. Really I designed the whole coffee bar around it. I went into Barefoot Cottage (where I got the Coffee Sommelier Book) with the idea that "I'll know it when I see it". And as soon as I saw this, I knew it. This was the perfect center piece for the coffee bar. The size is perfect for fitting everything I wanted on it. Its also not too bulky so it doesn't overwhelm the counter space.
I LOVE terrazzo and what I really loved about this one was the coloring. The grey/blue colors in the terrazzo was perfect for our kitchen. It isn't so colorful that it takes away from anything else in the space which I love. I was super bummed when I looked on Barefoot Cottage's website and couldn't find it on there anywhere to link for you all. So I found some similar options for you all here and here. Again, if you are local to Nashville I highly recommend you go check them out! They are in L&L Market, which is a great place to grab a coffee from Honest Coffee Roasters, some Five Daughters donuts and shop around a bit! One of my favorites, Imago Dei is also a great one to check out there!
Nespresso Creatista Plus Black Truffle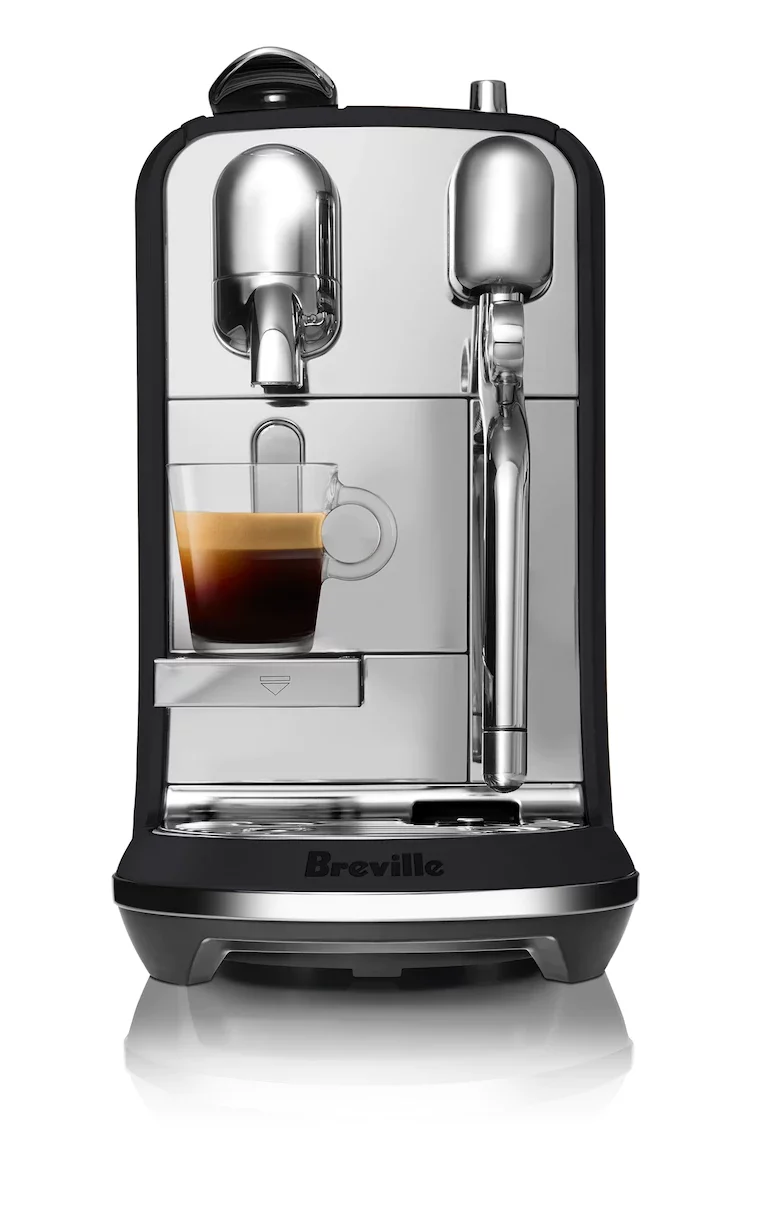 As I said in my post about my wedding registry must haves (check out the post here) this machine is a God send. Definitely one of the best gifts we have gotten! We have always had a Keurig in the past. While that worked just fine, this my friends is a game changer. I literally get a perfect, coffee shop quality latte every morning. We got the Black Truffle color and it is gorgeous and honestly so simple to use.
I am just now starting to try and learn coffee and how the different types of drinks are made. But you really don't need to know any of that to be able to use this. You just drop in your favorite Nespresso pod (my favorites for lattes are Chiaro and Volluto), choose what type of drink you want and let this magical machine do its thing! I pick latte, so it makes the espresso in your mug and them steams the milk. After that I go ahead and steam the milk a second time to get it nice and extra frothy!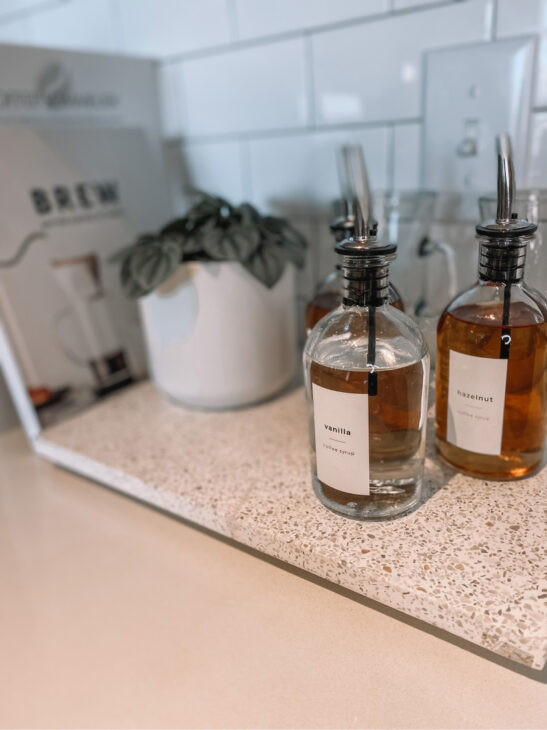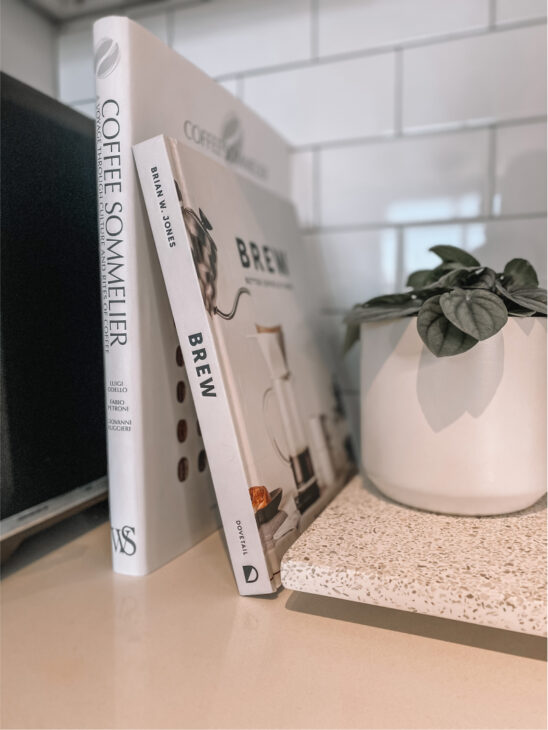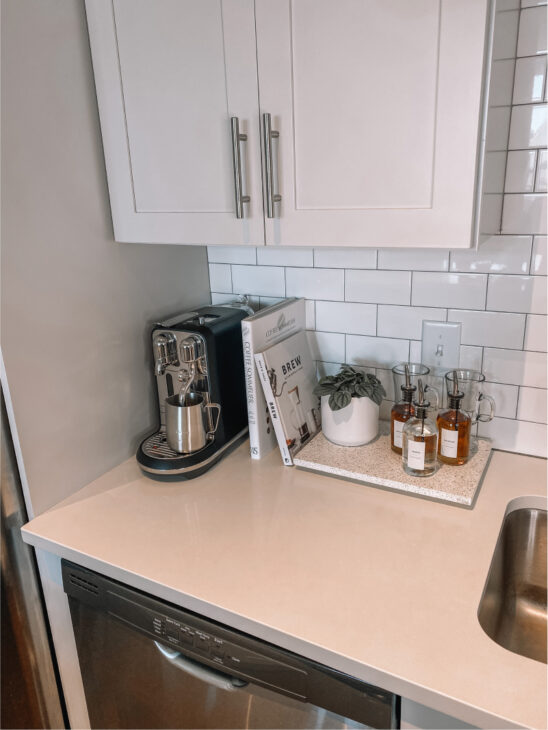 Overall, our coffee bar was quick and easy to style and put together. And fun too! If you are looking for more home projects to take on, check out this blog post I did on organizing my pantry. I hope you enjoyed following along with me! And I hope you get the chance to check out some of these awesome local shops if you're in the Nashville area. Trust me, they are worth the visit!
XOXO
Condo Living
Home Decor
Home Project
Lists