Throughout my pregnancy, my husband made so much fun of me for the amount of photo shoots I planned. A photographer for our pregnancy announcement, a photographer for the gender reveal, a photographer for maternity pictures, a photographer for newborn pictures when our little girl arrived. I wanted to capture EVERYTHING! And can you blame me? Okay maybe I was being a little extra, but as long as pregnancy can feel sometimes, it is such a fleeting moment in the entirety of our lives, one where our bodies are doing extraordinary things. I was so proud of myself for growing my soon to be mini best friend, and I wanted to capture it in the most glamorous way possible with my outfits for my maternity photo shoot. Because that's just who I am as a person.
When styling myself for my maternity photo shoot, I kept in mind that I wanted the shoot to be well rounded, including some casual lifestyle looks that I felt embodied how I felt in my pregnancy in the day to day, as well as some more statement pieces that made me feel like the bad ass sexy mama I was at 36 weeks pregnant. Check out my looks below!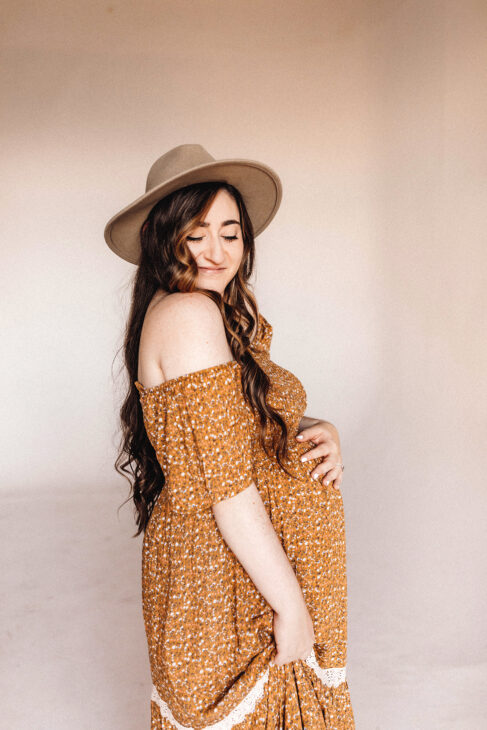 This gorgeous, cottage core style dress from Pink Lily is perfect for a casual look. I love that it's flowy but still shows off that baby bump. You can wear it with the shoulder up like cap sleeves or down like I did, and being able to play around with the skirt in pictures gave me something for my hands to do which always helps if you feels awkward or uncomfortable in front of the camera. The mustard yellow color is one of my favorites to wear in pictures because it really pops on most all skin tones, including my pasty white one. I felt like this hat paired so well with the dress and spiced up the look a little bit. I also just love this hat in general because it adds some nice boho flair to any outfit!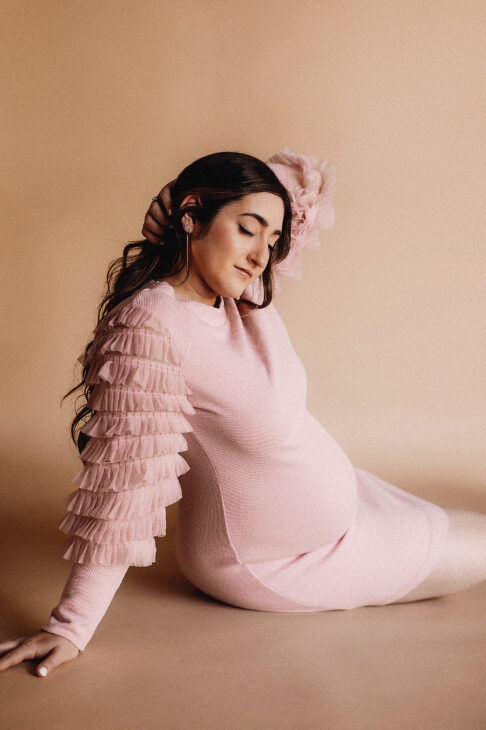 When I said I wanted a statement piece I meant I wanted a STATEMENT piece. This dress caught my eye and I immediately fell in love. I knew I wanted to incorporate pink into the shoot because we knew we were having a little girl, but I also wanted to include the color in a way that didn't feel cheesy, and I feel like this dress did just that. Even better, I found it on sale! The only problem with that is that I can't for the life of me find the link to this dress. I found it in the Backstage section of Macy's and have scoured the Macy's website only to be left empty handed. So check out these dresses below that I love just as much that I feel would make a gorgeous statement for your maternity photo shoot!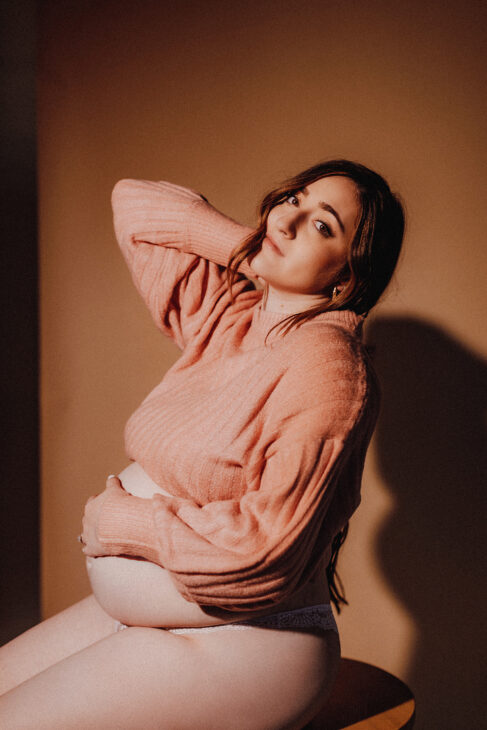 When I arrived to the studio for this shoot, I didn't necessarily intend to show this much skin for my maternity pictures. Not that I was against it, I honestly just didn't think of it. My photographer, who is one of my faves in the Nashville area, mentioned it and helped me throw this look together from what I had brought with me and now looking back I am so glad we got these shots. I feel like they so perfectly captured the beauty I felt in being pregnant. Not to say you have to show this much skin in order to feel beautiful at your maternity photo shoot, but if you feel comfortable enough I highly recommend it. As hard as pregnancy is, I do miss that big baby bump and feeling my little one kicking me sometimes and these pictures feel almost nostalgic for me. I can't wait to show these to my little girl one day and get the chance to teach her to be confident in her own skin. This sweater was perfect for this shot, it's super cozy and I loved that the color pink was different than the last pink but still not too in your face or over the top. It's a crop but I still tucked it into my bra so that the cut was perfect for showing off my bump! The undies are from Adore Me, but unfortunately they no longer sell this kind, so I linked some that are similar below.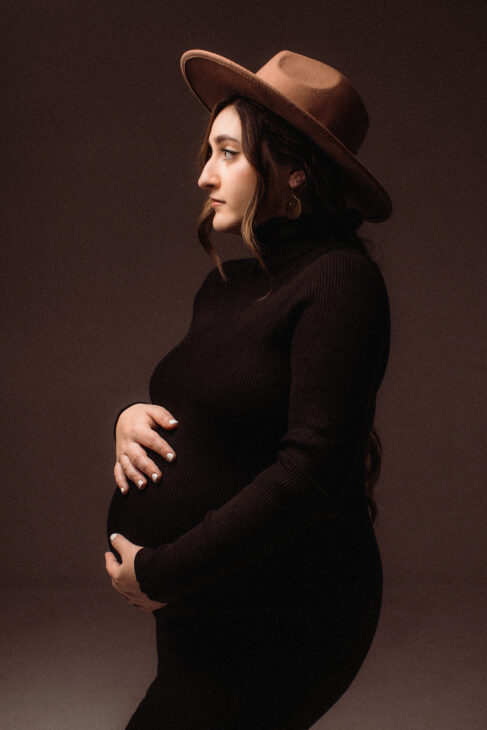 Okay, this is a classic maternity look that you will find ALL over Pinterest. And it's a classic for a reason people! The black is so slimming and the look overall is just so timeless. You won't look back at this shot in 20 years and think "Oh my gosh, what am I wearing?". I got this black turtleneck dress from Amazon and the fit was perfect for me! It's actually not a maternity dress, so keep that in mind for sizing when ordering but I will say the material is stretchy so you shouldn't have to size up too much. This wide brim hat is a perfect way to balance out the slim dress and I love the look of the brown with the black. The hat also looks beautiful in the silhouette shots the photographer captured. I purchased this hat a few years ago from VICI, but unfortunately they no longer sell it, so I linked two similar ones from VICI below. Overall, I think this look was my favorite from the shoot because of how elegant this outfit is. Maybe lots of people replicate this look, but it's done a lot for a reason, right?
I know that looking for outfits for your maternity photo shoot can be overwhelming and intimidating with so many options out there, but I hope this helps give you a good starting point! Remember to keep it well rounded, so start with one outfit and fill in from there based on what that first outfit is not. So if you start with a casual piece, try and fill in with a statement one and go from there. If you are in the Nashville area, I highly recommend Rachel with Brasspenny Photography. Her work is INCREDIBLE and she is the best at giving direction and making you feel so comfortable in front of the camera. Hope you enjoyed walking down memory lane with me! Let me know in the comments below which look is your favorite!
XOXO
Fashion
Lists
Maternity
Photo Shoot
Pregnancy
Style